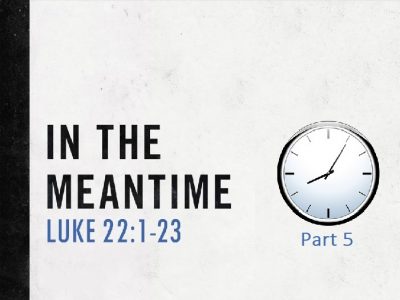 January 21, 2018
Luke 22:1-23   (English Standard Version)
1 Now the Feast of Unleavened Bread drew near, which is called the Passover. 2 And the chief priests and the scribes were seeking how to put him to death, for they feared the people.
3 Then Satan entered into Judas called Iscariot, who was of the number of the twelve. 4 He went away and conferred with the chief priests and officers how he might betray him to them. 5 And they were glad, and agreed to give him money. 6 So he consented and sought an opportunity to betray him to them in the absence of a crowd.
7 Then came the day of Unleavened Bread, on which the Passover lamb had to be sacrificed. 8 So Jesus sent Peter and John, saying, "Go and prepare the Passover for us, that we may eat it." 9 They said to him, "Where will you have us prepare it?" 10 He said to them, "Behold, when you have entered the city, a man carrying a jar of water will meet you. Follow him into the house that he enters 11 and tell the master of the house, 'The Teacher says to you, Where is the guest room, where I may eat the Passover with my disciples?' 12 And he will show you a large upper room furnished; prepare it there." 13 And they went and found it just as he had told them, and they prepared the Passover.
14 And when the hour came, he reclined at table, and the apostles with him. 15 And he said to them, "I have earnestly desired to eat this Passover with you before I suffer. 16 For I tell you I will not eat it until it is fulfilled in the kingdom of God." 17 And he took a cup, and when he had given thanks he said, "Take this, and divide it among yourselves. 18 For I tell you that from now on I will not drink of the fruit of the vine until the kingdom of God comes." 19 And he took bread, and when he had given thanks, he broke it and gave it to them, saying, "This is my body, which is given for you. Do this in remembrance of me." 20 And likewise the cup after they had eaten, saying, "This cup that is poured out for you is the new covenant in my blood. 21 But behold, the hand of him who betrays me is with me on the table. 22 For the Son of Man goes as it has been determined, but woe to that man by whom he is betrayed!" 23 And they began to question one another, which of them it could be who was going to do this.
Additional Scriptures used in this sermon:
Romans 3:23
23 for all have sinned and fall short of the glory of God,
1 Peter 5:8-9
8 Be sober-minded; be watchful. Your adversary the devil prowls around like a roaring lion, seeking someone to devour. 9 Resist him, firm in your faith, knowing that the same kinds of suffering are being experienced by your brotherhood throughout the world.
Ephesians 4:26b-27
26  do not let the sun go down on your anger, 27 and give no opportunity to the devil.
Ephesians 6:16
16 In all circumstances take up the shield of faith, with which you can extinguish all the flaming darts of the evil one;
James 4:7
7 Submit yourselves therefore to God. Resist the devil, and he will flee from you.
Jeremiah 17:9
9  The heart is deceitful above all things, and desperately sick; who can understand it?
Mark 7:21-23
21 For from within, out of the heart of man, come evil thoughts, sexual immorality, theft, murder, adultery, 22 coveting, wickedness, deceit, sensuality, envy, slander, pride, foolishness. 23 All these evil things come from within, and they defile a person."
1 Corinthians 11:27-30
27 Whoever, therefore, eats the bread or drinks the cup of the Lord in an unworthy manner will be guilty concerning the body and blood of the Lord. 28 Let a person examine himself, then, and so eat of the bread and drink of the cup. 29 For anyone who eats and drinks without discerning the body eats and drinks judgment on himself. 30 That is why many of you are weak and ill, and some have died.
Romans 6:23
23 For the wages of sin is death, but the free gift of God is eternal life in Christ Jesus our Lord.
2 Corinthians 5:21
21 For our sake he made him to be sin who knew no sin, so that in him we might become the righteousness of God.
1 Peter 3:18
18 For Christ also suffered once for sins, the righteous for the unrighteous, that he might bring us to God, being put to death in the flesh but made alive in the spirit,
Hebrews 10:11-13
11 And every priest stands daily at his service, offering repeatedly the same sacrifices, which can never take away sins. 12 But when Christ had offered for all time a single sacrifice for sins, he sat down at the right hand of God, 13 waiting from that time until his enemies should be made a footstool for his feet. 14 For by a single offering he has perfected for all time those who are being sanctified.