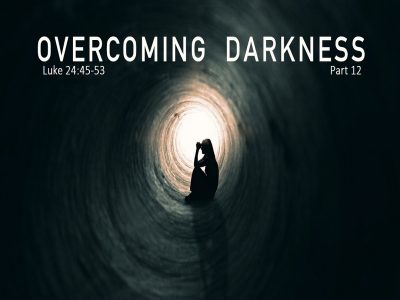 Overcoming Darkness – Part 12
April 22, 2018
Luke 24:45-53   (English Standard Version)
45 Then he opened their minds to understand the Scriptures, 46 and said to them, "Thus it is written, that the Christ should suffer and on the third day rise from the dead, 47 and that repentance for the forgiveness of sins should be proclaimed in his name to all nations, beginning from Jerusalem. 48 You are witnesses of these things. 49 And behold, I am sending the promise of my Father upon you. But stay in the city until you are clothed with power from on high." 50 And he led them out as far as Bethany, and lifting up his hands he blessed them. 51 While he blessed them, he parted from them and was carried up into heaven. 52 And they worshiped him and returned to Jerusalem with great joy, 53 and were continually in the temple blessing God.
Additional Scriptures used in this sermon:
Matthew 1:21
21 She will bear a son, and you shall call his name Jesus, for he will save his people from their sins."
Romans 1:19
19 For what can be known about God is plain to them, because God has shown it to them.
Acts 2:1-4
1 When the day of Pentecost arrived, they were all together in one place. 2 And suddenly there came from heaven a sound like a mighty rushing wind, and it filled the entire house where they were sitting. 3 And divided tongues as of fire appeared to them and rested on each one of them. 4 And they were all filled with the Holy Spirit and began to speak in other tongues as the Spirit gave them utterance.
John 15:26
26 "But when the Helper comes, whom I will send to you from the Father, the Spirit of truth, who proceeds from the Father, he will bear witness about me.
Matthew 28:18-20
18 And Jesus came and said to them, "All authority in heaven and on earth has been given to me. 19 Go therefore and make disciples of all nations, baptizing them in the name of the Father and of the Son and of the Holy Spirit, 20 teaching them to observe all that I have commanded you. And behold, I am with you always, to the end of the age."
Psalms 71:18
18 So even to old age and gray hairs, O God, do not forsake me, until I proclaim your might to another generation, your power to all those to come.