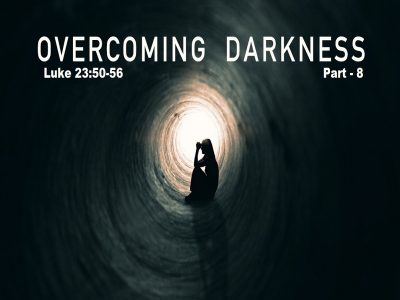 Overcoming Darkness – Part 8
March 25, 2018
Luke 23:50-56    (English Standard Version)
50 Now there was a man named Joseph, from the Jewish town of Arimathea. He was a member of the council, a good and righteous man, 51 who had not consented to their decision and action; and he was looking for the kingdom of God. 52 This man went to Pilate and asked for the body of Jesus. 53 Then he took it down and wrapped it in a linen shroud and laid him in a tomb cut in stone, where no one had ever yet been laid. 54 It was the day of Preparation, and the Sabbath was beginning. 55 The women who had come with him from Galilee followed and saw the tomb and how his body was laid. 56 Then they returned and prepared spices and ointments. On the Sabbath they rested according to the commandment.
Additional Scriptures used in this sermon:
1 Corinthians 15:14
14 And if Christ has not been raised, then our preaching is in vain and your faith is in vain.
Romans 1:18
18 For the wrath of God is revealed from heaven against all ungodliness and unrighteousness of men, who by their unrighteousness suppress the truth.
Colossians 2:13-15
13 And you, who were dead in your trespasses and the uncircumcision of your flesh, God made alive together with him, having forgiven us all our trespasses, 14 by canceling the record of debt that stood against us with its legal demands. This he set aside, nailing it to the cross. 15 He disarmed the rulers and authorities and put them to open shame, by triumphing over them in him.
Romans 2:5
5 But because of your hard and impenitent heart you are storing up wrath for yourself on the day of wrath when God's righteous judgment will be revealed.
1 John 2:2
2 He is the propitiation for our sins, and not for ours only but also for the sins of the whole world.
Romans 3:23
23 for all have sinned and fall short of the glory of God,
Hebrews 9:27
27 And just as it is appointed for man to die once, and after that comes judgment,
Matthew 27:57
57 When it was evening, there came a rich man from Arimathea, named Joseph, who also was a disciple of Jesus.
John 19:38
38 After these things Joseph of Arimathea, who was a disciple of Jesus, but secretly for fear of the Jews, asked Pilate that he might take away the body of Jesus, and Pilate gave him permission. So he came and took away his body.
Mark 14:43
43 Joseph of Arimathea, a respected member of the council, who was also himself looking for the kingdom of God, took courage and went to Pilate and asked for the body of Jesus.
Romans 10:9-10
9 because, if you confess with your mouth that Jesus is Lord and believe in your heart that God raised him from the dead, you will be saved. 10 For with the heart one believes and is justified, and with the mouth one confesses and is saved.