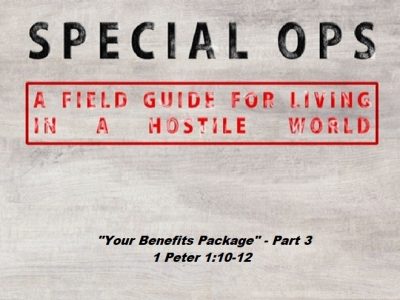 Your Benefits Package – Part 3
May 27, 2018
1 Peter 1:10-12   (English Standard Version)
10 Concerning this salvation, the prophets who prophesied about the grace that was to be yours searched and inquired carefully, 11 inquiring what person or time the Spirit of Christ in them was indicating when he predicted the sufferings of Christ and the subsequent glories. 12 It was revealed to them that they were serving not themselves but you, in the things that have now been announced to you through those who preached the good news to you by the Holy Spirit sent from heaven, things into which angels long to look.
Additional Scriptures used in this sermon:
Romans 8:28-31
28 And we know that for those who love God all things work together for good, for those who are called according to his purpose. 29 For those whom he foreknew he also predestined to be conformed to the image of his Son, in order that he might be the firstborn among many brothers. 30 And those whom he predestined he also called, and those whom he called he also justified, and those whom he justified he also glorified. 31 What then shall we say to these things? If God is for us, who can be against us?
Romans 8:28-31
16 But blessed are your eyes, for they see, and your ears, for they hear. 17 For truly, I say to you, many prophets and righteous people longed to see what you see, and did not see it, and to hear what you hear, and did not hear it.
Phillipians 2:5-11
5 Have this mind among yourselves, which is yours in Christ Jesus, 6 who, though he was in the form of God, did not count equality with God a thing to be grasped, 7 but emptied himself, by taking the form of a servant, being born in the likeness of men. 8 And being found in human form, he humbled himself by becoming obedient to the point of death, even death on a cross. 9 Therefore God has highly exalted him and bestowed on him the name that is above every name, 10 so that at the name of Jesus every knee should bow, in heaven and on earth and under the earth, 11 and every tongue confess that Jesus Christ is Lord, to the glory of God the Father.
Ephesians 2:1-5
1 And you were dead in the trespasses and sins 2 in which you once walked, following the course of this world, following the prince of the power of the air, the spirit that is now at work in the sons of disobedience— 3 among whom we all once lived in the passions of our flesh, carrying out the desires of the body and the mind, and were by nature children of wrath, like the rest of mankind. 4 But God, being rich in mercy, because of the great love with which he loved us, 5 even when we were dead in our trespasses, made us alive together with Christ—by grace you have been saved—
Revelation 2:2-5
2  'I know your works, your toil and your patient endurance, and how you cannot bear with those who are evil, but have tested those who call themselves apostles and are not, and found them to be false. 3 I know you are enduring patiently and bearing up for my name's sake, and you have not grown weary. 4 But I have this against you, that you have abandoned the love you had at first. 5 Remember therefore from where you have fallen; repent, and do the works you did at first. If not, I will come to you and remove your lampstand from its place, unless you repent.
Matthew 22:36-40
36 "Teacher, which is the great commandment in the Law?" 37 And he said to him, "You shall love the Lord your God with all your heart and with all your soul and with all your mind. 38 This is the great and first commandment. 39 And a second is like it: You shall love your neighbor as yourself. 40 On these two commandments depend all the Law and the Prophets."
John 7:37-38
37 On the last day of the feast, the great day, Jesus stood up and cried out, "If anyone thirsts, let him come to me and drink. 38 Whoever believes in me, as the Scripture has said, 'Out of his heart will flow rivers of living water.' "
Hebrews 10:25   (New American Standard Bible)
25  not forsaking our own assembling together, as is the habit of some, but encouraging one another; and all the more as you see the day drawing near.