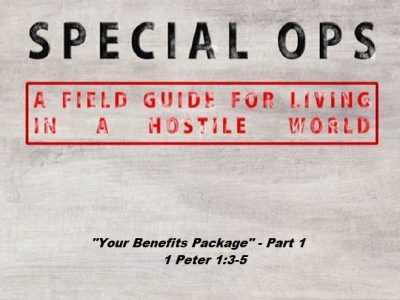 Your Benefits Package – Part 1
May 13, 2018
1 Peter 1:3-5   (English Standard Version)
3 Blessed be the God and Father of our Lord Jesus Christ! According to his great mercy, he has caused us to be born again to a living hope through the resurrection of Jesus Christ from the dead, 4 to an inheritance that is imperishable, undefiled, and unfading, kept in heaven for you, 5 who by God's power are being guarded through faith for a salvation ready to be revealed in the last time.
Additional Scriptures used in this sermon:
Titus 3:5
5 he saved us, not because of works done by us in righteousness, but according to his own mercy, by the washing of regeneration and renewal of the Holy Spirit,
Hebrews 4:14-16
14 Since then we have a great high priest who has passed through the heavens, Jesus, the Son of God, let us hold fast our confession. 15 For we do not have a high priest who is unable to sympathize with our weaknesses, but one who in every respect has been tempted as we are, yet without sin. 16 Let us then with confidence draw near to the throne of grace, that we may receive mercy and find grace to help in time of need.
Hebrews 9:27-28
27 And just as it is appointed for man to die once, and after that comes judgment, 28 so Christ, having been offered once to bear the sins of many, will appear a second time, not to deal with sin but to save those who are eagerly waiting for him.
Romans 8:1-2
1 There is therefore now no condemnation for those who are in Christ Jesus. 2 For the law of the Spirit of life has set you free in Christ Jesus from the law of sin and death.
1 Peter 1:23
23 since you have been born again, not of perishable seed but of imperishable, through the living and abiding word of God;
John 3:3-8
3 Jesus answered him, "Truly, truly, I say to you, unless one is born again he cannot see the kingdom of God." 4 Nicodemus said to him, "How can a man be born when he is old? Can he enter a second time into his mother's womb and be born?" 5 Jesus answered, "Truly, truly, I say to you, unless one is born of water and the Spirit, he cannot enter the kingdom of God. 6 That which is born of the flesh is flesh, and that which is born of the Spirit is spirit. 7 Do not marvel that I said to you, 'You must be born again.' 8 The wind blows where it wishes, and you hear its sound, but you do not know where it comes from or where it goes. So it is with everyone who is born of the Spirit."
2 Corinthians 5:17
17 Therefore, if anyone is in Christ, he is a new creation. The old has passed away; behold, the new has come.
John 1:12-13
12 But to all who did receive him, who believed in his name, he gave the right to become children of God, 13 who were born, not of blood nor of the will of the flesh nor of the will of man, but of God.
Ephesians 2:10
10 For we are his workmanship, created in Christ Jesus for good works, which God prepared beforehand, that we should walk in them.
Matthew 16:24-27
24 Then Jesus told his disciples, "If anyone would come after me, let him deny himself and take up his cross and follow me. 25 For whoever would save his life will lose it, but whoever loses his life for my sake will find it. 26 For what will it profit a man if he gains the whole world and forfeits his soul? Or what shall a man give in return for his soul? 27 For the Son of Man is going to come with his angels in the glory of his Father, and then he will repay each person according to what he has done.
John 10:28-30
28 I give them eternal life, and they will never perish, and no one will snatch them out of my hand. 29 My Father, who has given them to me, is greater than all, and no one is able to snatch them out of the Father's hand. 30 I and the Father are one."