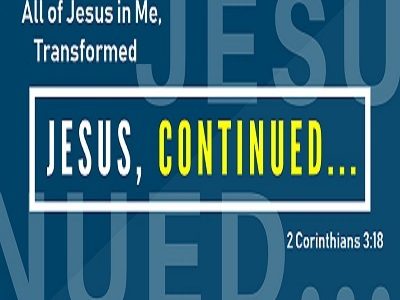 All of Jesus in Me, Transformed
November 24, 2019
2 Corinthians 3:18    (New International Version)
18 And we all, who with unveiled faces contemplate a the Lord's glory, are being transformed into his image with ever-increasing glory, which comes from the Lord, who is the Spirit.
Additional Scriptures used in this sermon (NIV unless otherwise noted):
Romans 8:29 (ESV)
29 For those whom he foreknew he also predestined to be conformed to the image of his Son, in order that he might be the firstborn among many brothers.
2 Corinthians 5:17
17 Therefore, if anyone is in Christ, the new creation has come: The old has gone, the new is here!
Luke 9:23-24
23 Then he said to them all: "Whoever wants to be my disciple must deny themselves and take up their cross daily and follow me. 24 For whoever wants to save their life will lose it, but whoever loses their life for me will save it.
Galatians 5:16
16 So I say, walk by the Spirit, and you will not gratify the desires of the flesh.
Romans 8:5-6
5 Those who live according to the flesh have their minds set on what the flesh desires; but those who live in accordance with the Spirit have their minds set on what the Spirit desires. 6 The mind governed by the flesh is death, but the mind governed by the Spirit is life and peace.
Romans 12:1-2
1 Therefore, I urge you, brothers and sisters, in view of God's mercy, to offer your bodies as a living sacrifice, holy and pleasing to God—this is your true and proper worship. 2 Do not conform to the pattern of this world, but be transformed by the renewing of your mind. Then you will be able to test and approve what God's will is—his good, pleasing and perfect will.
Exodus 34:30-35   (ESV)
30 When Aaron and all the Israelites saw Moses, his face was radiant, and they were afraid to come near him. 31 But Moses called to them; so Aaron and all the leaders of the community came back to him, and he spoke to them. 32 Afterward all the Israelites came near him, and he gave them all the commands the Lord had given him on Mount Sinai.
33 When Moses finished speaking to them, he put a veil over his face. 34 But whenever he entered the Lord's presence to speak with him, he removed the veil until he came out. And when he came out and told the Israelites what he had been commanded, 35 they saw that his face was radiant. Then Moses would put the veil back over his face until he went in to speak with the Lord.
Romans 8:1
1 Therefore, there is now no condemnation for those who are in Christ Jesus,