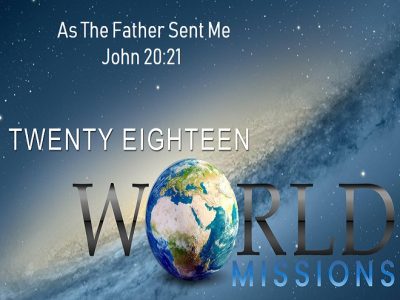 September 30, 2018
John 20:21    (English Standard Version)
21 Jesus said to them again, "Peace be with you. As the Father has sent me, even so I am sending you."
Additional Scriptures used in this sermon (ESV unless otherwise noted):
John 15:5
5 I am the vine; you are the branches. Whoever abides in me and I in him, he it is that bears much fruit, for apart from me you can do nothing.
John 3:16
16 "For God so loved the world, that he gave his only Son, that whoever believes in him should not perish but have eternal life.
1 John 4:9-11
9 In this the love of God was made manifest among us, that God sent his only Son into the world, so that we might live through him. 10 In this is love, not that we have loved God but that he loved us and sent his Son to be the propitiation for our sins. 11 Beloved, if God so loved us, we also ought to love one another.
Matthew 1:21
21 She will bear a son, and you shall call his name Jesus, for he will save his people from their sins."
2 Corinthians 5:21   (New King James Version)
21 For He made Him who knew no sin to be sin for us, that we might become the righteousness of God in Him.
Philippians 2:5-11
5 Have this mind among yourselves, which is yours in Christ Jesus, 6 who, though he was in the form of God, did not count equality with God a thing to be grasped, 7 but emptied himself, by taking the form of a servant, being born in the likeness of men. 8 And being found in human form, he humbled himself by becoming obedient to the point of death, even death on a cross. 9 Therefore God has highly exalted him and bestowed on him the name that is above every name, 10 so that at the name of Jesus every knee should bow, in heaven and on earth and under the earth, 11 and every tongue confess that Jesus Christ is Lord, to the glory of God the Father.
2 Corinthians 9:22  (New American Standard Version)
22 To the weak I became weak, that I might win the weak; I have become all things to all men, so that I may by all means save some.
Luke 9:23
23 And he said to all, "If anyone would come after me, let him deny himself and take up his cross daily and follow me.