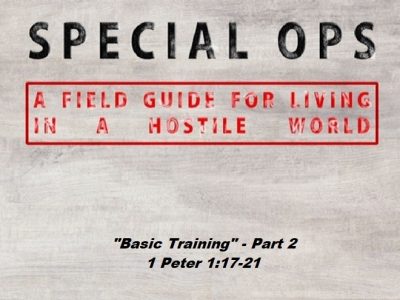 June 10, 2018
1 Peter 1:17-21   (English Standard Version)
17 And if you call on him as Father who judges impartially according to each one's deeds, conduct yourselves with fear throughout the time of your exile, 18 knowing that you were ransomed from the futile ways inherited from your forefathers, not with perishable things such as silver or gold, 19 but with the precious blood of Christ, like that of a lamb without blemish or spot. 20 He was foreknown before the foundation of the world but was made manifest in the last times for the sake of you 21 who through him are believers in God, who raised him from the dead and gave him glory, so that your faith and hope are in God.
Additional Scriptures used in this sermon:
1 Peter 5:8
8 Be sober-minded; be watchful. Your adversary the devil prowls around like a roaring lion, seeking someone to devour.
Matthew 10:28
28 And do not fear those who kill the body but cannot kill the soul. Rather fear him who can destroy both soul and body in hell.
John 14:15
15 "If you love me, you will keep my commandments.
Matthew 22:37
37 And he said to him, "You shall love the Lord your God with all your heart and with all your soul and with all your mind.
Mark 8:34
34 And calling the crowd to him with his disciples, he said to them, "If anyone would come after me, let him deny himself and take up his cross and follow me.
Matthew 5:13-16
13 "You are the salt of the earth, but if salt has lost its taste, how shall its saltiness be restored? It is no longer good for anything except to be thrown out and trampled under people's feet. 14 "You are the light of the world. A city set on a hill cannot be hidden. 15 Nor do people light a lamp and put it under a basket, but on a stand, and it gives light to all in the house. 16 In the same way, let your light shine before others, so that they may see your good works and give glory to your Father who is in heaven.
1 Corinthians 3:13-15
13 each one's work will become manifest, for the Day will disclose it, because it will be revealed by fire, and the fire will test what sort of work each one has done. 14 If the work that anyone has built on the foundation survives, he will receive a reward. 15 If anyone's work is burned up, he will suffer loss, though he himself will be saved, but only as through fire.
Ephesians 4:17-24
17 Now this I say and testify in the Lord, that you must no longer walk as the Gentiles do, in the futility of their minds. 18 They are darkened in their understanding, alienated from the life of God because of the ignorance that is in them, due to their hardness of heart. 19 They have become callous and have given themselves up to sensuality, greedy to practice every kind of impurity. 20 But that is not the way you learned Christ!— 21 assuming that you have heard about him and were taught in him, as the truth is in Jesus, 22 to put off your old self, which belongs to your former manner of life and is corrupt through deceitful desires, 23 and to be renewed in the spirit of your minds, 24 and to put on the new self, created after the likeness of God in true righteousness and holiness.