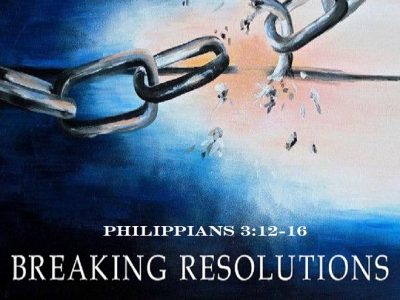 January 13, 2019
Philippians 3:12-16   (English Standard Version)
12 Not that I have already obtained this or am already perfect, but I press on to make it my own, because Christ Jesus has made me his own. 13 Brothers, I do not consider that I have made it my own. But one thing I do: forgetting what lies behind and straining forward to what lies ahead, 14 I press on toward the goal for the prize of the upward call of God in Christ Jesus. 15 Let those of us who are mature think this way, and if in anything you think otherwise, God will reveal that also to you. 16 Only let us hold true to what we have attained.
Additional Scriptures used in this sermon (ESV unless otherwise noted):
John 3:16
16 "For God so loved the world, that he gave his only Son, that whoever believes in him should not perish but have eternal life.
2 Corinthians 5:17
17 Therefore, if anyone is in Christ, he is a new creation. The old has passed away; behold, the new has come.
John 8:36
36 So if the Son sets you free, you will be free indeed.
Romans 7:15-19
15 For I do not understand my own actions. For I do not do what I want, but I do the very thing I hate. 16 Now if I do what I do not want, I agree with the law, that it is good. 17 So now it is no longer I who do it, but sin that dwells within me. 18 For I know that nothing good dwells in me, that is, in my flesh. For I have the desire to do what is right, but not the ability to carry it out. 19 For I do not do the good I want, but the evil I do not want is what I keep on doing.
1 John 1:9
9 If we confess our sins, he is faithful and just to forgive us our sins and to cleanse us from all unrighteousness.