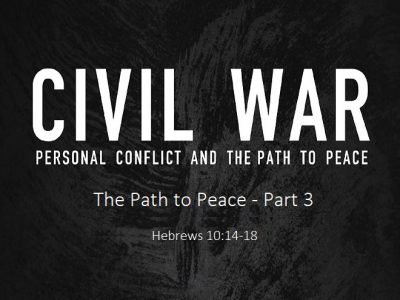 The Path to Peace – Part 3
April 21, 2019
Hebrews 10:14-18   (English Standard Version)
14 For by a single offering he has perfected for all time those who are being sanctified.
15 And the Holy Spirit also bears witness to us; for after saying, 16 "This is the covenant that I will make with them after those days, declares the Lord: I will put my laws on their hearts, and write them on their minds," 17 then he adds, "I will remember their sins and their lawless deeds no more." 18 Where there is forgiveness of these, there is no longer any offering for sin.
 Additional Scriptures used in this sermon (ESV unless otherwise noted):
1 John 4:18
18 There is no fear in love, but perfect love casts out fear. For fear has to do with punishment, and whoever fears has not been perfected in love.
Romans 5:8
8 but God shows his love for us in that while we were still sinners, Christ died for us.
Psalms 103:10-12
10 He does not deal with us according to our sins, nor repay us according to our iniquities. 11 For as high as the heavens are above the earth, so great is his steadfast love toward those who fear him; 12 as far as the east is from the west, so far does he remove our transgressions from us.
John 8:35-36
35 The slave does not remain in the house forever; the son remains forever. 36 So if the Son sets you free, you will be free indeed.
2 Corinthians 3:17
17 Now the Lord is the Spirit, and where the Spirit of the Lord is, there is freedom.