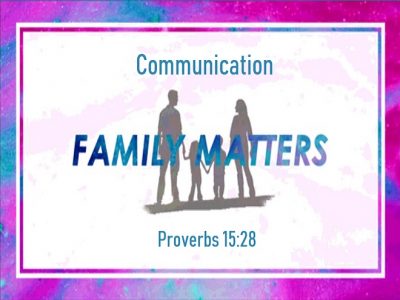 June 9, 2019
Proverbs 15:28   (English Standard Version)
28 The heart of the righteous ponders how to answer, but the mouth of the wicked pours out evil things.
Additional Scriptures used in this sermon (ESV unless otherwise noted):
Proverbs 18:21
21Death and life are in the power of the tongue, and those who love it will eat its fruits.
Colossians 4:6
6 Let your speech always be gracious, seasoned with salt, so that you may know how you ought to answer each person.
Ephesians 4:29-32
29 Let no corrupting talk come out of your mouths, but only such as is good for building up, as fits the occasion, that it may give grace to those who hear. 30 And do not grieve the Holy Spirit of God, by whom you were sealed for the day of redemption. 31 Let all bitterness and wrath and anger and clamor and slander be put away from you, along with all malice. 32 Be kind to one another, tenderhearted, forgiving one another, as God in Christ forgave you.
James 1:19-20
19 Know this, my beloved brothers: let every person be quick to hear, slow to speak, slow to anger; 20 for the anger of man does not produce the righteousness of God.