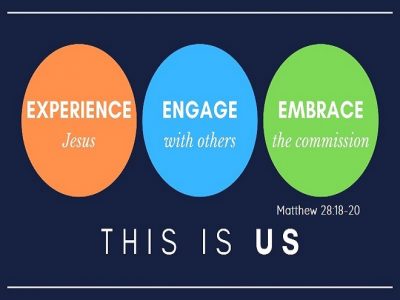 February 16, 2020
Matthew 28:18-20   (New International Version)
18 Then Jesus came to them and said, "All authority in heaven and on earth has been given to me. 19 Therefore go and make disciples of all nations, baptizing them in the name of the Father and of the Son and of the Holy Spirit, 20 and teaching them to obey everything I have commanded you. And surely I am with you always, to the very end of the age."
Additional Scriptures used in this sermon (NIV unless otherwise noted):
John 14:12
12 Very truly I tell you, whoever believes in me will do the works I have been doing, and they will do even greater things than these, because I am going to the Father.
John 14:15
15 "If you love me, keep my commands.
John 14:23
23 Jesus replied, "Anyone who loves me will obey my teaching. My Father will love them, and we will come to them and make our home with them.
John 15:5
5 "I am the vine; you are the branches. If you remain in me and I in you, you will bear much fruit; apart from me you can do nothing.
Acts 1:8
8 But you will receive power when the Holy Spirit comes on you; and you will be my witnesses in Jerusalem, and in all Judea and Samaria, and to the ends of the earth."
John 1:43
43 The next day Jesus decided to leave for Galilee. Finding Philip, he said to him, "Follow me."
Luke 6:40
40 The student is not above the teacher, but everyone who is fully trained will be like their teacher.
1 Corinthians 9:19-23
19 Though I am free and belong to no one, I have made myself a slave to everyone, to win as many as possible. 20 To the Jews I became like a Jew, to win the Jews. To those under the law I became like one under the law (though I myself am not under the law), so as to win those under the law. 21 To those not having the law I became like one not having the law (though I am not free from God's law but am under Christ's law), so as to win those not having the law. 22 To the weak I became weak, to win the weak. I have become all things to all people so that by all possible means I might save some. 23 I do all this for the sake of the gospel, that I may share in its blessings.
Luke 10:2
2 He told them, "The harvest is plentiful, but the workers are few. Ask the Lord of the harvest, therefore, to send out workers into his harvest field.
1 Corinthians 11:1
1 Follow my example, as I follow the example of Christ.