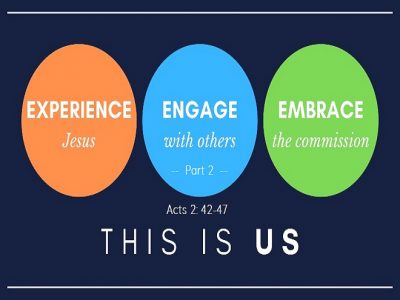 February 9, 2020
Acts 2:42-47   (New International Version)
42 They devoted themselves to the apostles' teaching and to fellowship, to the breaking of bread and to prayer. 43 Everyone was filled with awe at the many wonders and signs performed by the apostles. 44 All the believers were together and had everything in common. 45 They sold property and possessions to give to anyone who had need. 46 Every day they continued to meet together in the temple courts. They broke bread in their homes and ate together with glad and sincere hearts, 47 praising God and enjoying the favor of all the people. And the Lord added to their number daily those who were being saved.
Additional Scriptures used in this sermon (NIV unless otherwise noted):
John 17:22-23
22 I have given them the glory that you gave me, that they may be one as we are one—23 I in them and you in me—so that they may be brought to complete unity. Then the world will know that you sent me and have loved them even as you have loved me.
John 13:35
35 By this everyone will know that you are my disciples, if you love one another.
John 15:13
13 Greater love has no one than this: to lay down one's life for one's friends.
Romans 5:8
8 But God demonstrates his own love for us in this: While we were still sinners, Christ died for us.
James 5:16
16 Therefore confess your sins to each other and pray for each other so that you may be healed. The prayer of a righteous person is powerful and effective.
John 3:14-15
14 Just as Moses lifted up the snake in the wilderness, so the Son of Man must be lifted up, 15 that everyone who believes may have eternal life in him."