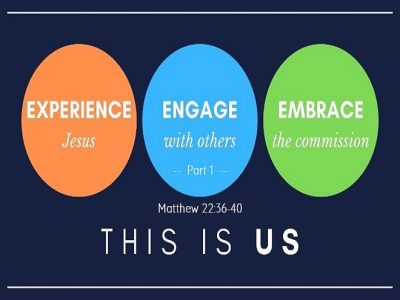 Engage with Others – Part 1
February 2, 2020
Matthew 22:36-40   (New International Version)
36 "Teacher, which is the greatest commandment in the Law?" 37 Jesus replied: " 'Love the Lord your God with all your heart and with all your soul and with all your mind.'  38 This is the first and greatest commandment. 39 And the second is like it: 'Love your neighbor as yourself.'  40 All the Law and the Prophets hang on these two commandments."
Additional Scriptures used in this sermon (NIV unless otherwise noted):
Matthew 28:18-20
18 Then Jesus came to them and said, "All authority in heaven and on earth has been given to me. 19 Therefore go and make disciples of all nations, baptizing them in the name of the Father and of the Son and of the Holy Spirit, 20 and teaching them to obey everything I have commanded you. And surely I am with you always, to the very end of the age."
Luke 9:23-24
23 Then he said to them all: "Whoever wants to be my disciple must deny themselves and take up their cross daily and follow me. 24 For whoever wants to save their life will lose it, but whoever loses their life for me will save it
Philippians 2:3-4
3 Do nothing out of selfish ambition or vain conceit. Rather, in humility value others above yourselves, 4 not looking to your own interests but each of you to the interests of the others.
Matthew 16:24
24 Then Jesus said to his disciples, "Whoever wants to be my disciple must deny themselves and take up their cross and follow me.
Malachi 3:10
10 Bring the whole tithe into the storehouse, that there may be food in my house. Test me in this," says the Lord Almighty, "and see if I will not throw open the floodgates of heaven and pour out so much blessing that there will not be room enough to store it.
Galatians 6:7
7 Do not be deceived: God cannot be mocked. A man reaps what he sows.
Matthew 6:24
24 "No one can serve two masters. Either you will hate the one and love the other, or you will be devoted to the one and despise the other. You cannot serve both God and money.
1 Peter 4:10
10 Each of you should use whatever gift you have received to serve others, as faithful stewards of God's grace in its various forms.