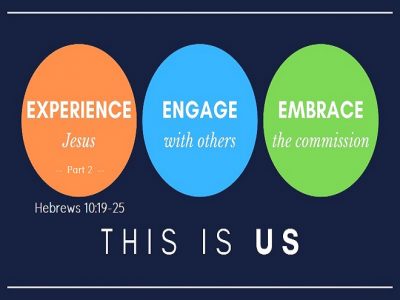 Experience Jesus – Part 2
January 26, 2020
Hebrews 10:19-25   (New International Version)
19 Therefore, brothers and sisters, since we have confidence to enter the Most Holy Place by the blood of Jesus, 20 by a new and living way opened for us through the curtain, that is, his body, 21 and since we have a great priest over the house of God, 22 let us draw near to God with a sincere heart and with the full assurance that faith brings, having our hearts sprinkled to cleanse us from a guilty conscience and having our bodies washed with pure water. 23 Let us hold unswervingly to the hope we profess, for he who promised is faithful. 24 And let us consider how we may spur one another on toward love and good deeds, 25 not giving up meeting together, as some are in the habit of doing, but encouraging one another—and all the more as you see the Day approaching.
Additional Scriptures used in this sermon (NIV unless otherwise noted):
2 Peter 1:3
3 His divine power has given us everything we need for a godly life through our knowledge of him who called us by his own glory and goodness.
James 4:8
8 Come near to God and he will come near to you. Wash your hands, you sinners, and purify your hearts, you double-minded.
Psalms 19:1
1 The heavens declare the glory of God; the skies proclaim the work of his hands.
1 Peter 4:10
10 Each of you should use whatever gift you have received to serve others, as faithful stewards of God's grace in its various forms.
Psalms 147:1
1 Praise the Lord. How good it is to sing praises to our God, how pleasant and fitting to praise him!
Joshua 24:15
15 But if serving the Lord seems undesirable to you, then choose for yourselves this day whom you will serve, whether the gods your ancestors served beyond the Euphrates, or the gods of the Amorites, in whose land you are living. But as for me and my household, we will serve the Lord."
John 4:23
23 Yet a time is coming and has now come when the true worshipers will worship the Father in the Spirit and in truth, for they are the kind of worshipers the Father seeks.
Revelation 4:11
11 "You are worthy, our Lord and God, to receive glory and honor and power, for you created all things, and by your will they were created and have their being."
Revelation 5:12-13
12 In a loud voice they were saying: "Worthy is the Lamb, who was slain, to receive power and wealth and wisdom and strength and honor and glory and praise!" 13 Then I heard every creature in heaven and on earth and under the earth and on the sea, and all that is in them, saying: "To him who sits on the throne and to the Lamb be praise and honor and glory and power, forever and ever!"