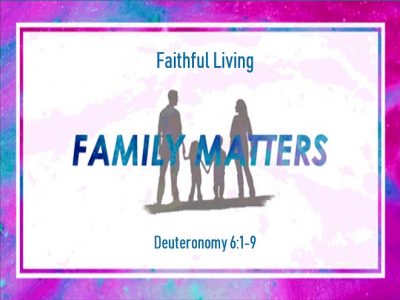 July 7, 2019
Deuteronomy 6:1-9   (English Standard Version)
 1 "Now this is the commandment—the statutes and the rules—that the Lord your God commanded me to teach you, that you may do them in the land to which you are going over, to possess it, 2 that you may fear the Lord your God, you and your son and your son's son, by keeping all his statutes and his commandments, which I command you, all the days of your life, and that your days may be long. 3 Hear therefore, O Israel, and be careful to do them, that it may go well with you, and that you may multiply greatly, as the Lord, the God of your fathers, has promised you, in a land flowing with milk and honey.
4 "Hear, O Israel: The Lord our God, the Lord is one. 5 You shall love the Lord your God with all your heart and with all your soul and with all your might. 6 And these words that I command you today shall be on your heart. 7 You shall teach them diligently to your children, and shall talk of them when you sit in your house, and when you walk by the way, and when you lie down, and when you rise. 8 You shall bind them as a sign on your hand, and they shall be as frontlets between your eyes. 9 You shall write them on the doorposts of your house and on your gates.
 Additional Scriptures used in this sermon (ESV unless otherwise noted):
Romans 15:4
4 For whatever was written in former days was written for our instruction, that through endurance and through the encouragement of the Scriptures we might have hope.
Deuteronomy 6:13-15
13 It is the Lord your God you shall fear. Him you shall serve and by his name you shall swear. 14 You shall not go after other gods, the gods of the peoples who are around you— 15 for the Lord your God in your midst is a jealous God—lest the anger of the Lord your God be kindled against you, and he destroy you from off the face of the earth.
John 10:10
10 The thief comes only to steal and kill and destroy. I came that they may have life and have it abundantly.
Proverbs 14:12
12 There is a way that seems right to a man, but its end is the way to death.
John 14:15
15 "If you love me, you will keep my commandments.
Deuteronomy 30:6
6 And the Lord your God will circumcise your heart and the heart of your offspring, so that you will love the Lord your God with all your heart and with all your soul, that you may live.