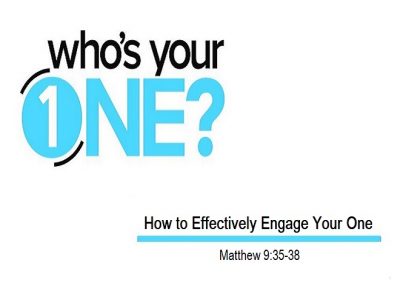 How to Effectively Engage Your One
September 22, 2019
Matthew 9:35-38   (New International Version)
35 Jesus went through all the towns and villages, teaching in their synagogues, proclaiming the good news of the kingdom and healing every disease and sickness. 36 When he saw the crowds, he had compassion on them, because they were harassed and helpless, like sheep without a shepherd. 37 Then he said to his disciples, "The harvest is plentiful but the workers are few. 38 Ask the Lord of the harvest, therefore, to send out workers into his harvest field."
Additional Scriptures used in this sermon (NIV unless otherwise noted):
Romans 5:8
8 But God demonstrates his own love for us in this: While we were still sinners, Christ died for us.
John 20:21
21 Again Jesus said, "Peace be with you! As the Father has sent me, I am sending you."
Matthew 22:36-39
36  "Teacher, which is the greatest commandment in the Law?"
37 Jesus replied: " 'Love the Lord your God with all your heart and with all your soul and with all your mind.'  38 This is the first and greatest commandment. 39 And the second is like it: 'Love your neighbor as yourself.'"
Romans 9:1-3
1 I speak the truth in Christ—I am not lying, my conscience confirms it through the Holy Spirit— 2 I have great sorrow and unceasing anguish in my heart. 3 For I could wish that I myself were cursed and cut off from Christ for the sake of my people, those of my own race,
John 15:10-17
10 If you keep my commands, you will remain in my love, just as I have kept my Father's commands and remain in his love. 11 I have told you this so that my joy may be in you and that your joy may be complete. 12 My command is this: Love each other as I have loved you. 13 Greater love has no one than this: to lay down one's life for one's friends. 14 You are my friends if you do what I command. 15 I no longer call you servants, because a servant does not know his master's business. Instead, I have called you friends, for everything that I learned from my Father I have made known to you. 16 You did not choose me, but I chose you and appointed you so that you might go and bear fruit—fruit that will last—and so that whatever you ask in my name the Father will give you. 17 This is my command: Love each other.
James 5:16
16 Therefore confess your sins to each other and pray for each other so that you may be healed. The prayer of a righteous person is powerful and effective.