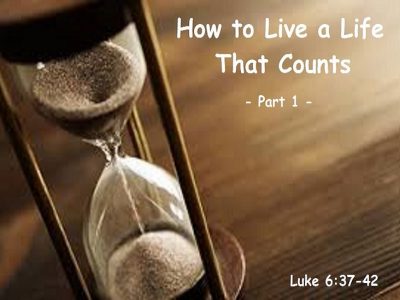 How to Live a Life that Counts – Part 1
July 26, 2015
Luke 6:37-42   (English Standard Version)
37 "Judge not, and you will not be judged; condemn not, and you will not be condemned; forgive, and you will be forgiven; 38 give, and it will be given to you. Good measure, pressed down, shaken together, running over, will be put into your lap. For with the measure you use it will be measured back to you."
39 He also told them a parable: "Can a blind man lead a blind man? Will they not both fall into a pit? 40 A disciple is not above his teacher, but everyone when he is fully trained will be like his teacher. 41 Why do you see the speck that is in your brother's eye, but do not notice the log that is in your own eye? 42 How can you say to your brother, 'Brother, let me take out the speck that is in your eye,' when you yourself do not see the log that is in your own eye? You hypocrite, first take the log out of your own eye, and then you will see clearly to take out the speck that is in your brother's eye.
Additional Scriptures used in this sermon:
Matthew 6:26
26 Look at the birds of the air: they neither sow nor reap nor gather into barns, and yet your heavenly Father feeds them. Are you not of more value than they?
Luke 12:24
24 Consider the ravens: they neither sow nor reap, they have neither storehouse nor barn, and yet God feeds them. Of how much more value are you than the birds!
Matthew 10:29-31
29 Are not two sparrows sold for a penny? And not one of them will fall to the ground apart from your Father. 30 But even the hairs of your head are all numbered. 31 Fear not, therefore; you are of more value than many sparrows.
Matthew 7:12a
12 "So whatever you wish that others would do to you, do also to them,
Matthew 5:22
22 But I say unto you, That whosoever is angry with his brother without a cause shall be in danger of the judgment: and whosoever shall say to his brother, Raca, shall be in danger of the council: but whosoever shall say, Thou fool, shall be in danger of hell fire.
Matthew 6:14-15
14 For if you forgive others their trespasses, your heavenly Father will also forgive you, 15 but if you do not forgive others their trespasses, neither will your Father forgive your trespasses.
Romans 3:23
23 for all have sinned and fall short of the glory of God,
Romans 6:23
23 For the wages of sin is death, but the free gift of God is eternal life in Christ Jesus our Lord.
1 Peter 3:18
18 For Christ also suffered once for sins, the righteous for the unrighteous, that he might bring us to God, being put to death in the flesh but made alive in the spirit, all of you, have unity of mind, sympathy, brotherly love, a tender heart, and a humble mind.
Romans 10:9-10
9 because, if you confess with your mouth that Jesus is Lord and believe in your heart that God raised him from the dead, you will be saved. 10 For with the heart one believes and is justified, and with the mouth one confesses and is saved.
Romans 8:1
1 There is therefore now no condemnation for those who are in Christ Jesus.
Hebrews 11:6
6 And without faith it is impossible to please him, for whoever would draw near to God must believe that he exists and that he rewards those who seek him.
1 John 1:9
9 If we confess our sins, he is faithful and just to forgive us our sins and to cleanse us from all unrighteousness.