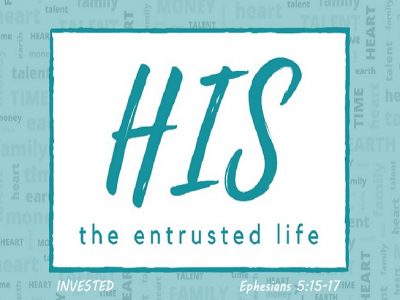 March 1, 2020
Ephesians 5:15-17   (New International Version)
15 Be very careful, then, how you live—not as unwise but as wise, 16 making the most of every opportunity, because the days are evil. 17 Therefore do not be foolish, but understand what the Lord's will is.
Additional Scriptures used in this sermon (NIV unless otherwise noted):
Ephesians 4:1
1 As a prisoner for the Lord, then, I urge you to live a life worthy of the calling you have received.
James 4:13-14
13 Now listen, you who say, "Today or tomorrow we will go to this or that city, spend a year there, carry on business and make money." 14 Why, you do not even know what will happen tomorrow. What is your life? You are a mist that appears for a little while and then vanishes.
Galatians 2:20
20 I have been crucified with Christ and I no longer live, but Christ lives in me. The life I now live in the body, I live by faith in the Son of God, who loved me and gave himself for me.
Ephesians 4:22-24
22 You were taught, with regard to your former way of life, to put off your old self, which is being corrupted by its deceitful desires; 23 to be made new in the attitude of your minds; 24 and to put on the new self, created to be like God in true righteousness and holiness.
Colossians 4:5-6
5 Be wise in the way you act toward outsiders; make the most of every opportunity. 6 Let your conversation be always full of grace, seasoned with salt, so that you may know how to answer everyone.
2 Corinthians 5:20
20 We are therefore Christ's ambassadors, as though God were making his appeal through us. We implore you on Christ's behalf: Be reconciled to God.
Psalms 90:12
12 Teach us to number our days, that we may gain a heart of wisdom.