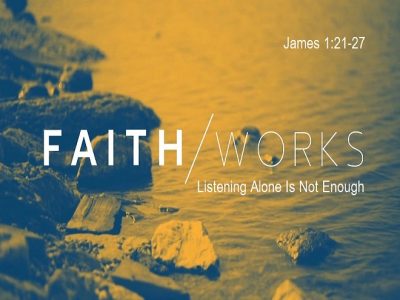 Listening Alone Is Not Enough
August 11, 2019
James 1:21-27   (New International Version)
21 Therefore put away all filthiness and rampant wickedness and receive with meekness the implanted word, which is able to save your souls. 22 But be doers of the word, and not hearers only, deceiving yourselves. 23 For if anyone is a hearer of the word and not a doer, he is like a man who looks intently at his natural face in a mirror. 24 For he looks at himself and goes away and at once forgets what he was like. 25 But the one who looks into the perfect law, the law of liberty, and perseveres, being no hearer who forgets but a doer who acts, he will be blessed in his doing. 26 If anyone thinks he is religious and does not bridle his tongue but deceives his heart, this person's religion is worthless. 27 Religion that is pure and undefiled before God the Father is this: to visit orphans and widows in their affliction, and to keep oneself unstained from the world.
Additional Scriptures used in this sermon (NIV unless otherwise noted):
Luke 11:27-28
27 As Jesus was saying these things, a woman in the crowd called out, "Blessed is the mother who gave you birth and nursed you." 28 He replied, "Blessed rather are those who hear the word of God and obey it."
Matthew 7:21-23
21 "Not everyone who says to me, 'Lord, Lord,' will enter the kingdom of heaven, but only the one who does the will of my Father who is in heaven. 22 Many will say to me on that day, 'Lord, Lord, did we not prophesy in your name and in your name drive out demons and in your name perform many miracles?' 23 Then I will tell them plainly, 'I never knew you. Away from me, you evildoers!'
1 John 5:1-5
1 Everyone who believes that Jesus is the Christ is born of God, and everyone who loves the father loves his child as well. 2 This is how we know that we love the children of God: by loving God and carrying out his commands. 3 In fact, this is love for God: to keep his commands. And his commands are not burdensome, 4 for everyone born of God overcomes the world. This is the victory that has overcome the world, even our faith. 5 Who is it that overcomes the world? Only the one who believes that Jesus is the Son of God.
Luke 6:46
46 "Why do you call me, 'Lord, Lord,' and do not do what I say?