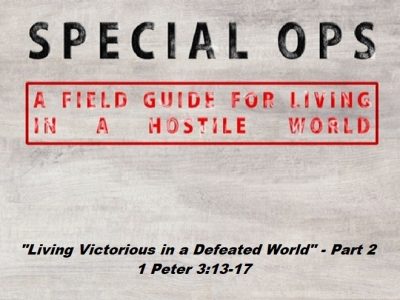 Living Victorious in a Defeated World – Part 2
August 19, 2018
1 Peter 3:13-17   (English Standard Version)
13 Now who is there to harm you if you are zealous for what is good? 14 But even if you should suffer for righteousness' sake, you will be blessed. Have no fear of them, nor be troubled, 15 but in your hearts honor Christ the Lord as holy, always being prepared to make a defense to anyone who asks you for a reason for the hope that is in you; yet do it with gentleness and respect, 16 having a good conscience, so that, when you are slandered, those who revile your good behavior in Christ may be put to shame. 17 For it is better to suffer for doing good, if that should be God's will, than for doing evil.
Additional Scriptures used in this sermon:
2 Peter 3:9
9 The Lord is not slow to fulfill his promise as some count slowness, but is patient toward you, not wishing that any should perish, but that all should reach repentance.
Matthew 24:14
14 And this gospel of the kingdom will be proclaimed throughout the whole world as a testimony to all nations, and then the end will come.
Acts 7:59-60
59 And as they were stoning Stephen, he called out, "Lord Jesus, receive my spirit." 60 And falling to his knees he cried out with a loud voice, "Lord, do not hold this sin against them." And when he had said this, he fell asleep.
Romans 8:18
18 For I consider that the sufferings of this present time are not worth comparing with the glory that is to be revealed to us.
Romans 8:31-35
31 What then shall we say to these things? If God is for us, who can be against us? 32 He who did not spare his own Son but gave him up for us all, how will he not also with him graciously give us all things? 33 Who shall bring any charge against God's elect? It is God who justifies. 34 Who is to condemn? Christ Jesus is the one who died—more than that, who was raised—who is at the right hand of God, who indeed is interceding for us. 35 Who shall separate us from the love of Christ? Shall tribulation, or distress, or persecution, or famine, or nakedness, or danger, or sword?
Romans 8:37-39
37 No, in all these things we are more than conquerors through him who loved us. 38 For I am sure that neither death nor life, nor angels nor rulers, nor things present nor things to come, nor powers, 39 nor height nor depth, nor anything else in all creation, will be able to separate us from the love of God in Christ Jesus our Lord.
John 15:18-20
18 "If the world hates you, know that it has hated me before it hated you. 19 If you were of the world, the world would love you as its own; but because you are not of the world, but I chose you out of the world, therefore the world hates you. 20 Remember the word that I said to you: 'A servant is not greater than his master.' If they persecuted me, they will also persecute you. If they kept my word, they will also keep yours.
Matthew 10:28
28 And do not fear those who kill the body but cannot kill the soul. Rather fear him who can destroy both soul and body in hell.
1 Corinthians 2:9
9 But, as it is written, "What no eye has seen, nor ear heard, nor the heart of man imagined, what God has prepared for those who love him"—