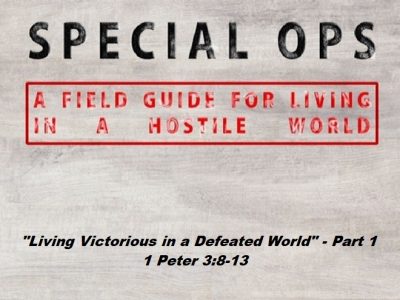 Living Victorious in a Defeated World – Part 1
August 12, 2018
1 Peter 3:8-13   (English Standard Version)
8 Finally, all of you, have unity of mind, sympathy, brotherly love, a tender heart, and a humble mind. 9 Do not repay evil for evil or reviling for reviling, but on the contrary, bless, for to this you were called, that you may obtain a blessing. 10 For "Whoever desires to love life and see good days, let him keep his tongue from evil and his lips from speaking deceit; 11 let him turn away from evil and do good; let him seek peace and pursue it. 12 For the eyes of the Lord are on the righteous, and his ears are open to their prayer.  But the face of the Lord is against those who do evil." 13 Now who is there to harm you if you are zealous for what is good?
Additional Scriptures used in this sermon:
Romans 8:1
1 There is therefore now no condemnation for those who are in Christ Jesus.
Ephesians 2:11-14
11 Therefore remember that at one time you Gentiles in the flesh, called "the uncircumcision" by what is called the circumcision, which is made in the flesh by hands— 12 remember that you were at that time separated from Christ, alienated from the commonwealth of Israel and strangers to the covenants of promise, having no hope and without God in the world. 13 But now in Christ Jesus you who once were far off have been brought near by the blood of Christ. 14 For he himself is our peace, who has made us both one and has broken down in his flesh the dividing wall of hostility
Luke 6:27-31
27 "But I say to you who hear, Love your enemies, do good to those who hate you, 28 bless those who curse you, pray for those who abuse you. 29 To one who strikes you on the cheek, offer the other also, and from one who takes away your cloak do not withhold your tunic either. 30 Give to everyone who begs from you, and from one who takes away your goods do not demand them back. 31 And as you wish that others would do to you, do so to them.