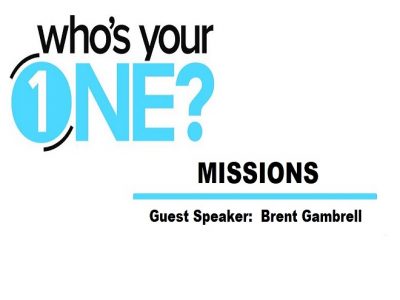 September 15, 2019
Romans 10:14-15   (New International Version)
14 How, then, can they call on the one they have not believed in? And how can they believe in the one of whom they have not heard? And how can they hear without someone preaching to them? 15 And how can anyone preach unless they are sent? As it is written: "How beautiful are the feet of those who bring good news!"
Additional Scriptures used in this sermon (NIV unless otherwise noted):
John 1:35-42
35 The next day John was there again with two of his disciples. 36 When he saw Jesus passing by, he said, "Look, the Lamb of God!"
37 When the two disciples heard him say this, they followed Jesus. 38 Turning around, Jesus saw them following and asked, "What do you want?" They said, "Rabbi" (which means "Teacher"), "where are you staying?"
39 "Come," he replied, "and you will see." So they went and saw where he was staying, and they spent that day with him. It was about four in the afternoon.
40 Andrew, Simon Peter's brother, was one of the two who heard what John had said and who had followed Jesus. 41 The first thing Andrew did was to find his brother Simon and tell him, "We have found the Messiah" (that is, the Christ). 42 And he brought him to Jesus. Jesus looked at him and said, "You are Simon son of John. You will be called
James 5:16   (NASB)
16 Therefore, confess your sins to one another, and pray for one another so that you may be healed. The effective prayer of a righteous man can accomplish much.
Mark 6:34   (ESV)
34 When he went ashore he saw a great crowd, and he had compassion on them, because they were like sheep without a shepherd. And he began to teach them many things.
1 Peter 3:13-18   (ESV)
13 Now who is there to harm you if you are zealous for what is good? 14 But even if you should suffer for righteousness' sake, you will be blessed. Have no fear of them, nor be troubled, 15 but in your hearts honor Christ the Lord as holy, always being prepared to make a defense to anyone who asks you for a reason for the hope that is in you; yet do it with gentleness and respect, 16 having a good conscience, so that, when you are slandered, those who revile your good behavior in Christ may be put to shame. 17 For it is better to suffer for doing good, if that should be God's will, than for doing evil.
18 For Christ also suffered once for sins, the righteous for the unrighteous, that he might bring us to God, being put to death in the flesh but made alive in the spirit,