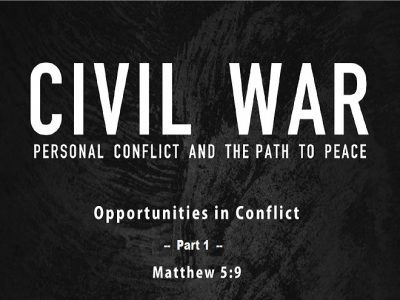 Opportunities in Conflict – Part 1
February 24, 2019
Matthew 5:9   (English Standard Version)
9 "Blessed are the peacemakers, for they shall be called sons of God.
 Additional Scriptures used in this sermon (ESV unless otherwise noted):
Romans 5:8
8 but God shows his love for us in that while we were still sinners, Christ died for us.
Ephesians 2:4-5
4 But God, being rich in mercy, because of the great love with which he loved us, 5 even when we were dead in our trespasses, made us alive together with Christ—by grace you have been saved—
Romans 12:17-21
17 Repay no one evil for evil, but give thought to do what is honorable in the sight of all. 18 If possible, so far as it depends on you, live peaceably with all. 19 Beloved, never avenge yourselves, but leave it to the wrath of God, for it is written, "Vengeance is mine, I will repay, says the Lord." 20 To the contrary, "if your enemy is hungry, feed him; if he is thirsty, give him something to drink; for by so doing you will heap burning coals on his head." 21 Do not be overcome by evil, but overcome evil with good.
Matthew 5:43-45
43 "You have heard that it was said, 'You shall love your neighbor and hate your enemy.' 44 But I say to you, Love your enemies and pray for those who persecute you, 45 so that you may be sons of your Father who is in heaven. For he makes his sun rise on the evil and on the good, and sends rain on the just and on the unjust.
Luke 9:23
23 And he said to all, "If anyone would come after me, let him deny himself and take up his cross daily and follow me.
Proverbs 3:5-6
5 Trust in the Lord with all your heart, and do not lean on your own understanding. 6 In all your ways acknowledge him, and he will make straight your paths.