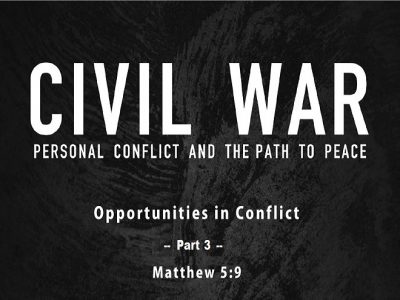 Opportunities in Conflict – Part 3
March 10, 2019
Matthew 5:9   (English Standard Version)
9 "Blessed are the peacemakers, for they shall be called sons of God.
Additional Scriptures used in this sermon (ESV unless otherwise noted):
Romans 8:28-29
28 And we know that for those who love God all things work together for good, for those who are called according to his purpose. 29 For those whom he foreknew he also predestined to be conformed to the image of his Son, in order that he might be the firstborn among many brothers.
Matthew 22:37-40
37 And he said to him, "You shall love the Lord your God with all your heart and with all your soul and with all your mind. 38 This is the great and first commandment. 39 And a second is like it: You shall love your neighbor as yourself. 40 On these two commandments depend all the Law and the Prophets."
Matthew 5:21-26
21 "You have heard that it was said to those of old, 'You shall not murder; and whoever murders will be liable to judgment.' 22 But I say to you that everyone who is angry with his brother will be liable to judgment; whoever insults his brother will be liable to the council; and whoever says, 'You fool!' will be liable to the hell of fire. 23 So if you are offering your gift at the altar and there remember that your brother has something against you, 24 leave your gift there before the altar and go. First be reconciled to your brother, and then come and offer your gift. 25 Come to terms quickly with your accuser while you are going with him to court, lest your accuser hand you over to the judge, and the judge to the guard, and you be put in prison. 26 Truly, I say to you, you will never get out until you have paid the last penny.
1 Corinthians 11:1
1  Be imitators of me, as I am of Christ.
John 5:19
19 So Jesus said to them, "Truly, truly, I say to you, the Son can do nothing of his own accord, but only what he sees the Father doing. For whatever the Father does, that the Son does likewise.
John 5:30
30 "I can do nothing on my own. As I hear, I judge, and my judgment is just, because I seek not my own will but the will of him who sent me.
John 8:28
28 So Jesus said to them, "When you have lifted up the Son of Man, then you will know that I am he, and that I do nothing on my own authority, but speak just as the Father taught me.
Luke 22:39-46
39 And he came out and went, as was his custom, to the Mount of Olives, and the disciples followed him. 40 And when he came to the place, he said to them, "Pray that you may not enter into temptation." 41 And he withdrew from them about a stone's throw, and knelt down and prayed, 42 saying, "Father, if you are willing, remove this cup from me. Nevertheless, not my will, but yours, be done." 43 And there appeared to him an angel from heaven, strengthening him. 44 And being in agony he prayed more earnestly; and his sweat became like great drops of blood falling down to the ground. 45 And when he rose from prayer, he came to the disciples and found them sleeping for sorrow, 46 and he said to them, "Why are you sleeping? Rise and pray that you may not enter into temptation."
2 Corinthians 12:7-10
7 So to keep me from becoming conceited because of the surpassing greatness of the revelations, a thorn was given me in the flesh, a messenger of Satan to harass me, to keep me from becoming conceited. 8 Three times I pleaded with the Lord about this, that it should leave me. 9 But he said to me, "My grace is sufficient for you, for my power is made perfect in weakness." Therefore I will boast all the more gladly of my weaknesses, so that the power of Christ may rest upon me. 10 For the sake of Christ, then, I am content with weaknesses, insults, hardships, persecutions, and calamities. For when I am weak, then I am strong.
James 1:2-4
2 Count it all joy, my brothers, when you meet trials of various kinds, 3 for you know that the testing of your faith produces steadfastness. 4 And let steadfastness have its full effect, that you may be perfect and complete, lacking in nothing.