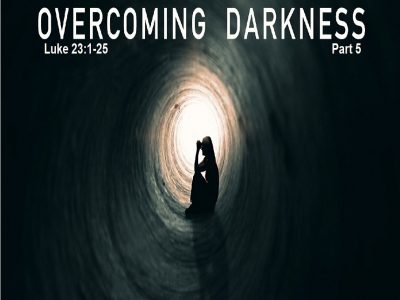 Overcoming Darkness – Part 5
March 4, 2018
Luke 23:1-25   (English Standard Version)
1 Then the whole company of them arose and brought him before Pilate. 2 And they began to accuse him, saying, "We found this man misleading our nation and forbidding us to give tribute to Caesar, and saying that he himself is Christ, a king." 3 And Pilate asked him, "Are you the King of the Jews?" And he answered him, "You have said so." 4 Then Pilate said to the chief priests and the crowds, "I find no guilt in this man." 5 But they were urgent, saying, "He stirs up the people, teaching throughout all Judea, from Galilee even to this place."
6 When Pilate heard this, he asked whether the man was a Galilean. 7 And when he learned that he belonged to Herod's jurisdiction, he sent him over to Herod, who was himself in Jerusalem at that time. 8 When Herod saw Jesus, he was very glad, for he had long desired to see him, because he had heard about him, and he was hoping to see some sign done by him. 9 So he questioned him at some length, but he made no answer. 10 The chief priests and the scribes stood by, vehemently accusing him. 11 And Herod with his soldiers treated him with contempt and mocked him. Then, arraying him in splendid clothing, he sent him back to Pilate. 12 And Herod and Pilate became friends with each other that very day, for before this they had been at enmity with each other.
13 Pilate then called together the chief priests and the rulers and the people, 14 and said to them, "You brought me this man as one who was misleading the people. And after examining him before you, behold, I did not find this man guilty of any of your charges against him. 15 Neither did Herod, for he sent him back to us. Look, nothing deserving death has been done by him. 16 I will therefore punish and release him."
18 But they all cried out together, "Away with this man, and release to us Barabbas"— 19 a man who had been thrown into prison for an insurrection started in the city and for murder. 20 Pilate addressed them once more, desiring to release Jesus, 21 but they kept shouting, "Crucify, crucify him!" 22 A third time he said to them, "Why? What evil has he done? I have found in him no guilt deserving death. I will therefore punish and release him." 23 But they were urgent, demanding with loud cries that he should be crucified. And their voices prevailed. 24 So Pilate decided that their demand should be granted. 25 He released the man who had been thrown into prison for insurrection and murder, for whom they asked, but he delivered Jesus over to their will.
Additional Scriptures used in this sermon:
John 18:33-38
33 So Pilate entered his headquarters again and called Jesus and said to him, "Are you the King of the Jews?" 34 Jesus answered, "Do you say this of your own accord, or did others say it to you about me?" 35 Pilate answered, "Am I a Jew? Your own nation and the chief priests have delivered you over to me. What have you done?" 36 Jesus answered, "My kingdom is not of this world. If my kingdom were of this world, my servants would have been fighting, that I might not be delivered over to the Jews. But my kingdom is not from the world." 37 Then Pilate said to him, "So you are a king?" Jesus answered, "You say that I am a king. For this purpose I was born and for this purpose I have come into the world—to bear witness to the truth. Everyone who is of the truth listens to my voice." 38 Pilate said to him, "What is truth?"  After he had said this, he went back outside to the Jews and told them, "I find no guilt in him.
John 14:6
6 Jesus said to him, "I am the way, and the truth, and the life. No one comes to the Father except through me.
John 11:47-48
47 So the chief priests and the Pharisees gathered the council and said, "What are we to do? For this man performs many signs. 48 If we let him go on like this, everyone will believe in him, and the Romans will come and take away both our place and our nation."
Mark 15:10
10 For he perceived that it was out of envy that the chief priests had delivered him up.
1 Corinthians 3:3
3 for you are still of the flesh. For while there is jealousy and strife among you, are you not of the flesh and behaving only in a human way?
James 3:14-16
14 But if you have bitter jealousy and selfish ambition in your hearts, do not boast and be false to the truth. 15 This is not the wisdom that comes down from above, but is earthly, unspiritual, demonic. 16 For where jealousy and selfish ambition exist, there will be disorder and every vile practice.
John 13:34-35
34 A new commandment I give to you, that you love one another: just as I have loved you, you also are to love one another. 35 By this all people will know that you are my disciples, if you have love for one another."
1 Corinthians 13:4-5
4 Love is patient and kind; love does not envy or boast; it is not arrogant 5 or rude. It does not insist on its own way; it is not irritable or resentful;
1 John 2:9
9 Whoever says he is in the light and hates his brother is still in darkness.
Matthew 22:37-39
37 And he said to him, "You shall love the Lord your God with all your heart and with all your soul and with all your mind. 38 This is the great and first commandment. 39 And a second is like it: You shall love your neighbor as yourself.
James 4:1-3
1 What causes quarrels and what causes fights among you? Is it not this, that your passions are at war within you? 2 You desire and do not have, so you murder. You covet and cannot obtain, so you fight and quarrel. You do not have, because you do not ask. 3 You ask and do not receive, because you ask wrongly, to spend it on your passions.
1 Peter 4:8
8 Above all, keep loving one another earnestly, since love covers a multitude of sins.