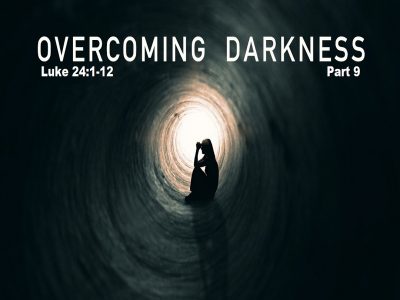 Overcoming Darkness – Part 9
April 1, 2018
Luke 24:1-12   (English Standard Version)
1  But on the first day of the week, at early dawn, they went to the tomb, taking the spices they had prepared. 2 And they found the stone rolled away from the tomb, 3 but when they went in they did not find the body of the Lord Jesus. 4 While they were perplexed about this, behold, two men stood by them in dazzling apparel. 5 And as they were frightened and bowed their faces to the ground, the men said to them, "Why do you seek the living among the dead? 6 He is not here, but has risen. Remember how he told you, while he was still in Galilee, 7 that the Son of Man must be delivered into the hands of sinful men and be crucified and on the third day rise." 8 And they remembered his words, 9 and returning from the tomb they told all these things to the eleven and to all the rest. 10 Now it was Mary Magdalene and Joanna and Mary the mother of James and the other women with them who told these things to the apostles, 11 but these words seemed to them an idle tale, and they did not believe them. 12 But Peter rose and ran to the tomb; stooping and looking in, he saw the linen cloths by themselves; and he went home marveling at what had happened.  
Additional Scriptures used in this sermon:
John 10:10
10 The thief comes only to steal and kill and destroy. I came that they may have life and have it abundantly.
1 John 2:16-17
16 For all that is in the world—the desires of the flesh and the desires of the eyes and pride of life—is not from the Father but is from the world. 17 And the world is passing away along with its desires, but whoever does the will of God abides forever.
Romans 3:23
23 for all have sinned and fall short of the glory of God,