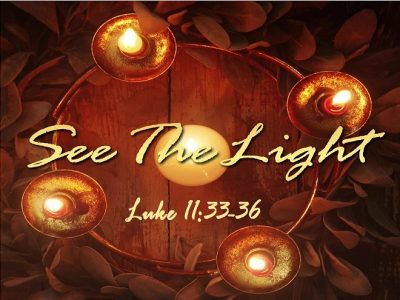 February 10, 2019
Luke 11:33-36   (English Standard Version)
33 "No one after lighting a lamp puts it in a cellar or under a basket, but on a stand, so that those who enter may see the light. 34 Your eye is the lamp of your body. When your eye is healthy, your whole body is full of light, but when it is bad, your body is full of darkness. 35 Therefore be careful lest the light in you be darkness. 36 If then your whole body is full of light, having no part dark, it will be wholly bright, as when a lamp with its rays gives you light."
 
Additional Scriptures used in this sermon (ESV unless otherwise noted):
John 10:10
10 The thief comes only to steal and kill and destroy. I came that they may have life and have it abundantly.
John 14:6
6 Jesus said to him, "I am the way, and the truth, and the life. No one comes to the Father except through me.
2 Corinthians 5:7
7 for we walk by faith, not by sight.
Proverbs 3:6
6 In all your ways acknowledge him, and he will make straight your paths.
Luke 11:9
9 And I tell you, ask, and it will be given to you; seek, and you will find; knock, and it will be opened to you.
Luke 11:13
13 If you then, who are evil, know how to give good gifts to your children, how much more will the heavenly Father give the Holy Spirit to those who ask him!"
Matthew 7:13-14
13 "Enter by the narrow gate. For the gate is wide and the way is easy that leads to destruction, and those who enter by it are many. 14 For the gate is narrow and the way is hard that leads to life, and those who find it are few.
Matthew 6:19-21
19 "Do not lay up for yourselves treasures on earth, where moth and rust destroy and where thieves break in and steal, 20 but lay up for yourselves treasures in heaven, where neither moth nor rust destroys and where thieves do not break in and steal. 21 For where your treasure is, there your heart will be also.
Romans 7:18-25
18 For I know that nothing good dwells in me, that is, in my flesh. For I have the desire to do what is right, but not the ability to carry it out. 19 For I do not do the good I want, but the evil I do not want is what I keep on doing. 20 Now if I do what I do not want, it is no longer I who do it, but sin that dwells within me. 21 So I find it to be a law that when I want to do right, evil lies close at hand. 22 For I delight in the law of God, in my inner being, 23 but I see in my members another law waging war against the law of my mind and making me captive to the law of sin that dwells in my members. 24 Wretched man that I am! Who will deliver me from this body of death? 25 Thanks be to God through Jesus Christ our Lord! So then, I myself serve the law of God with my mind, but with my flesh I serve the law of sin.