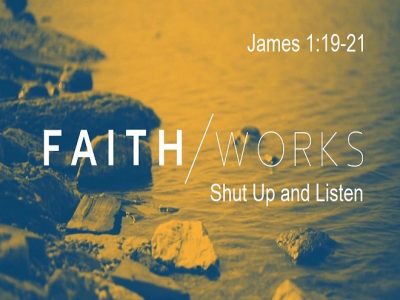 August 4, 2019
James 1:19–21 (English Standard Version)
19 Know this, my beloved brothers: let every person be quick to hear, slow to speak, slow to anger; 20 for the anger of man does not produce the righteousness of God. 21 Therefore put away all filthiness and rampant wickedness and receive with meekness the implanted word, which can save your souls.
Additional Scriptures used in this sermon (ESV unless otherwise noted):
Matthew 7:12
12 "So whatever you wish that others would do to you, do also to them, for this is the Law and the Prophets.
Matthew 22:36-40
36 "Teacher, which is the great commandment in the Law?" 37 And he said to him, "You shall love the Lord your God with all your heart and with all your soul and with all your mind. 38 This is the great and first commandment. 39 And a second is like it: You shall love your neighbor as yourself. 40 On these two commandments depend all the Law and the Prophets."
John 15:13
13 Greater love has no one than this, that someone lay down his life for his friends.
John 20:21
21 Jesus said to them again, "Peace be with you. As the Father has sent me, even so I am sending you."