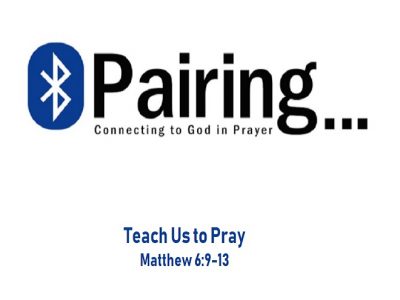 October 21, 2018
Matthew 6:9-13    (English Standard Version)
9 Pray then like this: "Our Father in heaven, hallowed be your name. 10 Your kingdom come, your will be done, on earth as it is in heaven. 11 Give us this day our daily bread, 12 and forgive us our debts, as we also have forgiven our debtors.   13 And lead us not into temptation, but deliver us from evil.
Additional Scriptures used in this sermon (ESV unless otherwise noted):
Matthew 6:5-6
5 And when you pray, you must not be like the hypocrites. For they love to stand and pray in the synagogues and at the street corners, that they may be seen by others. Truly, I say to you, they have received their reward. 6 But when you pray, go into your room and shut the door and pray to your Father who is in secret. And your Father who sees in secret will reward you.
Luke 11:1
1 Now Jesus was praying in a certain place, and when he finished, one of his disciples said to him, "Lord, teach us to pray, as John taught his disciples."
Acts 2:42
42 And they devoted themselves to the apostles' teaching and the fellowship, to the breaking of bread and the prayers.
John 14:6
6 Jesus said to him, "I am the way, and the truth, and the life. No one comes to the Father except through me.
Romans 8:14-15
14 For all who are led by the Spirit of God are sons of God. 15 For you did not receive the spirit of slavery to fall back into fear, but you have received the Spirit of adoption as sons, by whom we cry, "Abba! Father!"
Mark 2:27
27 And he said to them, "The Sabbath was made for man, not man for the Sabbath. 28 So the Son of Man is lord even of the Sabbath."
John 5:19
19 So Jesus said to them, "Truly, truly, I say to you, the Son can do nothing of his own accord, but only what he sees the Father doing. For whatever the Father does, that the Son does likewise.
John 5:30
30 "I can do nothing on my own. As I hear, I judge, and my judgment is just, because I seek not my own will but the will of him who sent me.
Mark 2:27
27 And he said to them, "The Sabbath was made for man, not man for the Sabbath. 28 So the Son of Man is lord even of the Sabbath."