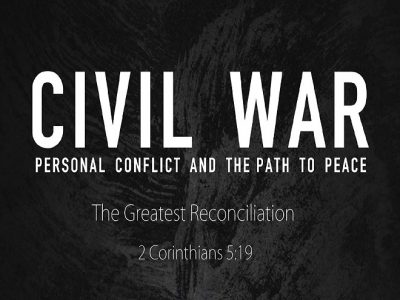 The Greatest Reconciliation
February 17, 2019
2 Corinthians 5:19   (English Standard Version)
19 that is, in Christ God was reconciling the world to himself, not counting their trespasses against them, and entrusting to us the message of reconciliation.
Additional Scriptures used in this sermon (ESV unless otherwise noted):
Romans 3:23
23 for all have sinned and fall short of the glory of God,.
Isaiah 59:2
2 but your iniquities have made a separation between you and your God, and your sins have hidden his face from you so that he does not hear.
2 Corinthians 5:21
21 For our sake he made him to be sin who knew no sin, so that in him we might become the righteousness of God.
Romans 5:8
8 but God shows his love for us in that while we were still sinners, Christ died for us.
Isaiah 53:5-6
5 But he was pierced for our transgressions; he was crushed for our iniquities; upon him was the chastisement that brought us peace, and with his wounds we are healed. 6 All we like sheep have gone astray; we have turned—every one—to his own way; and the Lord has laid on him the iniquity of us all.
Revelation 20:15
15 And if anyone's name was not found written in the book of life, he was thrown into the lake of fire.
Ephesians 1:7
7 In him we have redemption through his blood, the forgiveness of our trespasses, according to the riches of his grace,
Ephesians 2:4-5
4 But God, being rich in mercy, because of the great love with which he loved us, 5 even when we were dead in our trespasses, made us alive together with Christ—by grace you have been saved—.
Romans 5:10
10 For if while we were enemies we were reconciled to God by the death of his Son, much more, now that we are reconciled, shall we be saved by his life.