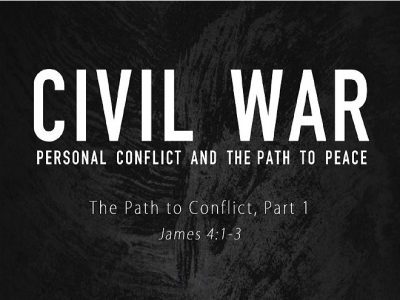 The Path to Conflict – Part 1
March 17, 2019
James 4:1-3    (English Standard Version)
1 What causes quarrels and what causes fights among you? Is it not this, that your passions are at war within you? 2 You desire and do not have, so you murder. You covet and cannot obtain, so you fight and quarrel. You do not have, because you do not ask. 3 You ask and do not receive, because you ask wrongly, to spend it on your passions.
Additional Scriptures used in this sermon (ESV unless otherwise noted):
Matthew 5:9
9 "Blessed are the peacemakers, for they shall be called sons of God.