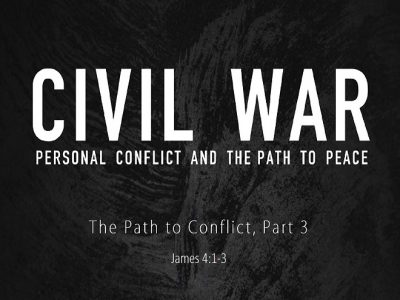 The Path to Conflict – Part 3
March 31, 2019
Matthew 5:9
9 "Blessed are the peacemakers, for they shall be called sons of God.
John 13:34-35
34 A new commandment I give to you, that you love one another: just as I have loved you, you also are to love one another. 35 By this all people will know that you are my disciples, if you have love for one another.
1 Corinthians 6:7
7 To have lawsuits at all with one another is already a defeat for you. Why not rather suffer wrong? Why not rather be defrauded?
1 Peter 3:17
17 For it is better to suffer for doing good, if that should be God's will, than for doing evil.
Matthew 5:21-22
21 "You have heard that it was said to those of old, 'You shall not murder; and whoever murders will be liable to judgment.' 22 But I say to you that everyone who is angry with his brother will be liable to judgment; whoever insults his brother will be liable to the council; and whoever says, 'You fool!' will be liable to the hell of fire.
1 John 3:15-16
15 Everyone who hates his brother is a murderer, and you know that no murderer has eternal life abiding in him. 16 By this we know love, that he laid down his life for us, and we ought to lay down our lives for the brothers.
Ephesians 4:29-32
29 Let no corrupting talk come out of your mouths, but only such as is good for building up, as fits the occasion, that it may give grace to those who hear. 30 And do not grieve the Holy Spirit of God, by whom you were sealed for the day of redemption. 31 Let all bitterness and wrath and anger and clamor and slander be put away from you, along with all malice. 32 Be kind to one another, tenderhearted, forgiving one another, as God in Christ forgave you.
Proverbs 15:1
1  A soft answer turns away wrath, but a harsh word stirs up anger.