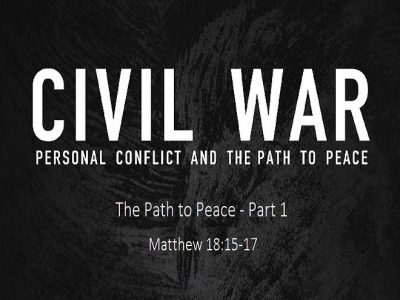 The Path to Peace – Part 1
April 7, 2019
Matthew 18:15-17 (English Standard Version)
15 "If your brother sins against you, go and tell him his fault, between you and him alone. If he listens to you, you have gained your brother. 16 But if he does not listen, take one or two others along with you, that every charge may be established by the evidence of two or three witnesses. 17 If he refuses to listen to them, tell it to the church. And if he refuses to listen even to the church, let him be to you as a Gentile and a tax collector.
Additional Scriptures used in this sermon (ESV unless otherwise noted):
Proverbs 19:11
11 Good sense makes one slow to anger, and it is his glory to overlook an offense.
Matthew 5:9
9 "Blessed are the peacemakers, for they shall be called sons of God.
Matthew 5:23-24
23 So if you are offering your gift at the altar and there remember that your brother has something against you, 24 leave your gift there before the altar and go. First be reconciled to your brother, and then come and offer your gift.
James 4:17
17 So whoever knows the right thing to do and fails to do it, for him it is sin.
Philippians 2:4
4 Let each of you look not only to his own interests, but also to the interests of others.
1 Corinthians 6:1-11
1When one of you has a grievance against another, does he dare go to law before the unrighteous instead of the saints? 2 Or do you not know that the saints will judge the world? And if the world is to be judged by you, are you incompetent to try trivial cases? 3 Do you not know that we are to judge angels? How much more, then, matters pertaining to this life! 4 So if you have such cases, why do you lay them before those who have no standing in the church? 5 I say this to your shame. Can it be that there is no one among you wise enough to settle a dispute between the brothers, 6 but brother goes to law against brother, and that before unbelievers? 7 To have lawsuits at all with one another is already a defeat for you. Why not rather suffer wrong? Why not rather be defrauded? 8 But you yourselves wrong and defraud—even your own brothers!
9 Or do you not know that the unrighteous will not inherit the kingdom of God? Do not be deceived: neither the sexually immoral, nor idolaters, nor adulterers, nor men who practice homosexuality, 10 nor thieves, nor the greedy, nor drunkards, nor revilers, nor swindlers will inherit the kingdom of God. 11 And such were some of you. But you were washed, you were sanctified, you were justified in the name of the Lord Jesus Christ and by the Spirit of our God.
1 Peter 4:8
8 Above all, keep loving one another earnestly, since love covers a multitude of sins.