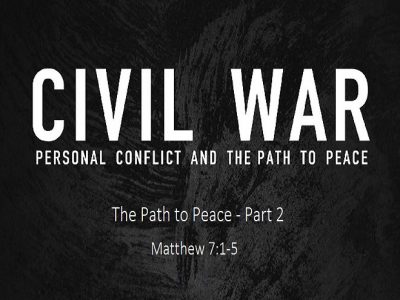 The Path to Peace – Part 2
April 14, 2019
Matthew 7:1-5
1 Judge not, that you be not judged. 2 For with the judgment you pronounce you will be judged, and with the measure you use it will be measured to you. 3 Why do you see the speck that is in your brother's eye, but do not notice the log that is in your own eye? 4 Or how can you say to your brother, 'Let me take the speck out of your eye,' when there is the log in your own eye? 5 You hypocrite, first take the log out of your own eye, and then you will see clearly to take the speck out of your brother's eye.
Additional Scriptures used in this sermon (ESV unless otherwise noted):
Matthew 5:9
9 "Blessed are the peacemakers, for they shall be called sons of God.
Matthew 7:6
6 "Do not give dogs what is holy, and do not throw your pearls before pigs, lest they trample them underfoot and turn to attack you.
1 John 1:9
9 If we confess our sins, he is faithful and just to forgive us our sins and to cleanse us from all unrighteousness.
Romans 8:1
1 There is therefore now no condemnation for those who are in Christ Jesus.
Colossians 3:13
13 bearing with one another and, if one has a complaint against another, forgiving each other; as the Lord has forgiven you, so you also must forgive.
Matthew 6:14-15
14 For if you forgive others their trespasses, your heavenly Father will also forgive you, 15 but if you do not forgive others their trespasses, neither will your Father forgive your trespasses.