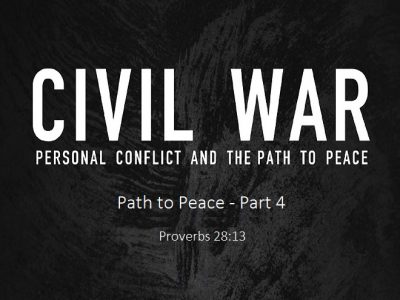 The Path to Peace – Part 4
April 28, 2019
Proverbs 28:13   (English Standard Version)
13 Whoever conceals his transgressions will not prosper, but he who confesses and forsakes them will obtain mercy.
Additional Scriptures used in this sermon (ESV unless otherwise noted):
Mark 1:15-17
15 and saying, "The time is fulfilled, and the kingdom of God is at hand; repent and believe in the gospel." 16 Passing alongside the Sea of Galilee, he saw Simon and Andrew the brother of Simon casting a net into the sea, for they were fishermen.17 And Jesus said to them, "Follow me, and I will make you become fishers of men."
1 John 1:9
9 If we confess our sins, he is faithful and just to forgive us our sins and to cleanse us from all unrighteousness.
Hebrews 10:18
18 Where there is forgiveness of these, there is no longer any offering for sin.
Ephesians 4:26
26 Be angry and do not sin; do not let the sun go down on your anger,
Matthew 22:37-40
37 Jesus replied, 'You must love the Lord your God with all your heart, all your soul, and all your mind.' 38 This is the first and greatest commandment. 39 A second is equally important: 'Love your neighbor as yourself.' 40 The entire law and all the demands of the prophets are based on these two commandments.
Matthew 5:23-24
23 "So if you are presenting a sacrifice at the altar in the Temple and you suddenly remember that someone has something against you, 24 leave your sacrifice there at the altar. Go and be reconciled to that person. Then come and offer your sacrifice to God.
Romans 8:1
1 There is therefore now no condemnation for those who are in Christ Jesus.