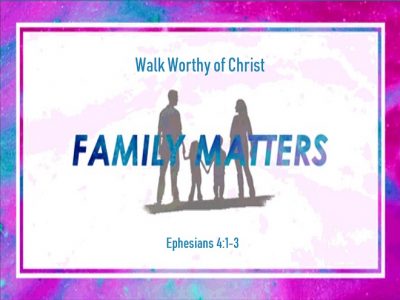 June 16, 2019
Ephesians 4:1-3   (English Standard Version)
1 I therefore, a prisoner for the Lord, urge you to walk in a manner worthy of the calling to which you have been called, 2 with all humility and gentleness, with patience, bearing with one another in love, 3 eager to maintain the unity of the Spirit in the bond of peace.
Additional Scriptures used in this sermon (ESV unless otherwise noted):
Philippians 2:3-4
3 Do nothing from selfish ambition or conceit, but in humility count others more significant than yourselves. 4 Let each of you look not only to his own interests, but also to the interests of others.
Galatians 5:22-23
22 But the fruit of the Spirit is love, joy, peace, patience, kindness, goodness, faithfulness, 23 gentleness, self-control; against such things there is no law.
Galatians 6:9
9 And let us not grow weary of doing good, for in due season we will reap, if we do not give up. 10 So then, as we have opportunity, let us do good to everyone, and especially to those who are of the household of faith.
Colossians 3:12
12 Put on then, as God's chosen ones, holy and beloved, compassionate hearts, kindness, humility, meekness, and patience,
Pslams 103:13
13 As a father shows compassion to his children, so the Lord shows compassion to those who fear him.
1 Peter 4:8
8 Above all, keep loving one another earnestly, since love covers a multitude of sins.
Galatians 5:24-26
24 And those who belong to Christ Jesus have crucified the flesh with its passions and desires.
25 If we live by the Spirit, let us also keep in step with the Spirit. 26 Let us not become conceited, provoking one another, envying one another.
1 Timothy 6:11-12
11 But as for you, O man of God, flee these things. Pursue righteousness, godliness, faith, love, steadfastness, gentleness. 12 Fight the good fight of the faith. Take hold of the eternal life to which you were called and about which you made the good confession in the presence of many witnesses.