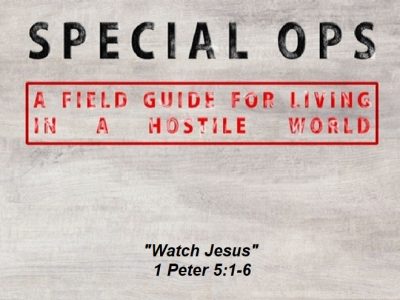 September 9, 2018
1 Peter 5:1-6    (English Standard Version)
1 So I exhort the elders among you, as a fellow elder and a witness of the sufferings of Christ, as well as a partaker in the glory that is going to be revealed: 2 shepherd the flock of God that is among you, exercising oversight, not under compulsion, but willingly, as God would have you; not for shameful gain, but eagerly; 3 not domineering over those in your charge, but being examples to the flock. 4 And when the chief Shepherd appears, you will receive the unfading crown of glory. 5 Likewise, you who are younger, be subject to the elders. Clothe yourselves, all of you, with humility toward one another, for "God opposes the proud but gives grace to the humble." 6 Humble yourselves, therefore, under the mighty hand of God so that at the proper time he may exalt you,
Additional Scriptures used in this sermon (ESV unless otherwise noted):
Luke 9:24-25
24 For whoever would save his life will lose it, but whoever loses his life for my sake will save it. 25 For what does it profit a man if he gains the whole world and loses or forfeits himself?
Matthew 16:24
24 Then Jesus told his disciples, "If anyone would come after me, let him deny himself and take up his cross and follow me.
1 Corinthians 11:1
1 Be imitators of me, as I am of Christ.
John 10:14-15
14 I am the good shepherd. I know my own and my own know me, 15 just as the Father knows me and I know the Father; and I lay down my life for the sheep.
John 13:12-16
12 When he had washed their feet and put on his outer garments and resumed his place, he said to them, "Do you understand what I have done to you? 13 You call me Teacher and Lord, and you are right, for so I am. 14 If I then, your Lord and Teacher, have washed your feet, you also ought to wash one another's feet. 15 For I have given you an example, that you also should do just as I have done to you. 16 Truly, truly, I say to you, a servant is not greater than his master, nor is a messenger greater than the one who sent him.