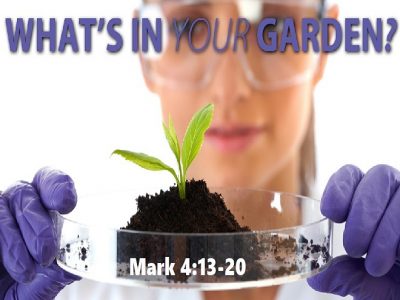 February 3, 2019
Mark 4:13-20   (English Standard Version)
13 And he said to them, "Do you not understand this parable? How then will you understand all the parables? 14 The sower sows the word. 15 And these are the ones along the path, where the word is sown: when they hear, Satan immediately comes and takes away the word that is sown in them. 16 And these are the ones sown on rocky ground: the ones who, when they hear the word, immediately receive it with joy. 17 And they have no root in themselves, but endure for a while; then, when tribulation or persecution arises on account of the word, immediately they fall away. 18 And others are the ones sown among thorns. They are those who hear the word, 19 but the cares of the world and the deceitfulness of riches and the desires for other things enter in and choke the word, and it proves unfruitful. 20 But those that were sown on the good soil are the ones who hear the word and accept it and bear fruit, thirtyfold and sixtyfold and a hundredfold."
Additional Scriptures used in this sermon (ESV unless otherwise noted):
John 8:31-32
31 So Jesus said to the Jews who had believed him, "If you abide in my word, you are truly my disciples, 32 and you will know the truth, and the truth will set you free." 33 They answered him, "We are offspring of Abraham and have never been enslaved to anyone. How is it that you say, 'You will become free'?"
Luke 14:33
33 So therefore, any one of you who does not renounce all that he has cannot be my disciple.
John 15:5
5 I am the vine; you are the branches. Whoever abides in me and I in him, he it is that bears much fruit, for apart from me you can do nothing.