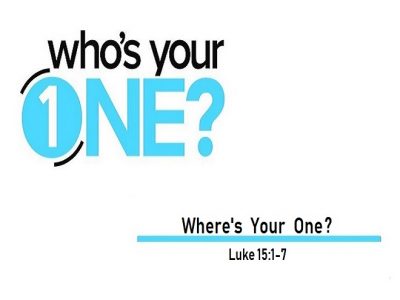 October 20, 2019
Luke 15:1-7   (New International Version)
1 Now the tax collectors and sinners were all gathering around to hear Jesus. 2 But the Pharisees and the teachers of the law muttered, "This man welcomes sinners and eats with them."
3 Then Jesus told them this parable: 4 "Suppose one of you has a hundred sheep and loses one of them. Doesn't he leave the ninety-nine in the open country and go after the lost sheep until he finds it? 5 And when he finds it, he joyfully puts it on his shoulders 6 and goes home. Then he calls his friends and neighbors together and says, 'Rejoice with me; I have found my lost sheep.' 7 I tell you that in the same way there will be more rejoicing in heaven over one sinner who repents than over ninety-nine righteous persons who do not need to repent.
Additional Scriptures used in this sermon (ESV unless otherwise noted):
Luke 14:33
33 So therefore, any one of you who does not renounce all that he has cannot be my disciple.
Luke 5:32
32 I have not come to call the righteous but sinners to repentance."
Luke 19:10
10 For the Son of Man came to seek and to save the lost."
Matthew 1:21
21 She will bear a son, and you shall call his name Jesus, for he will save his people from their sins.
John 20:21
21 Jesus said to them again, "Peace be with you. As the Father has sent me, even so I am sending you."
Ephesians 2:12
12 remember that you were at that time separated from Christ, alienated from the commonwealth of Israel and strangers to the covenants of promise, having no hope and without God in the world.
Romans 8:35-39   (NIV)
35 Who shall separate us from the love of Christ? Shall trouble or hardship or persecution or famine or nakedness or danger or sword? 36 As it is written: "For your sake we face death all day long; we are considered as sheep to be slaughtered." 37 No, in all these things we are more than conquerors through him who loved us. 38 For I am convinced that neither death nor life, neither angels nor demons, neither the present nor the future, nor any powers, 39 neither height nor depth, nor anything else in all creation, will be able to separate us from the love of God that is in Christ Jesus our Lord.