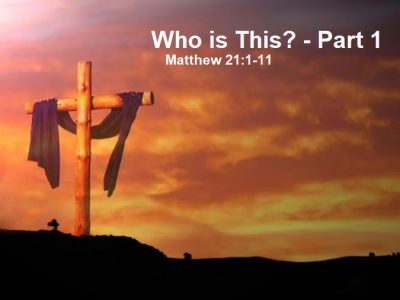 March 29, 2015
Matthew 21:1-11   (English Standard Version)
1  Now when they drew near to Jerusalem and came to Bethphage, to the Mount of Olives, then Jesus sent two disciples, 2 saying to them, "Go into the village in front of you, and immediately you will find a donkey tied, and a colt with her. Untie them and bring them to me. 3 If anyone says anything to you, you shall say, 'The Lord needs them,' and he will send them at once." 4 This took place to fulfill what was spoken by the prophet, saying,    5 "Say to the daughter of Zion, 'Behold, your king is coming to you, humble, and mounted on a donkey, on a colt, the foal of a beast of burden.' " 6 The disciples went and did as Jesus had directed them. 7 They brought the donkey and the colt and put on them their cloaks, and he sat on them. 8 Most of the crowd spread their cloaks on the road, and others cut branches from the trees and spread them on the road. 9 And the crowds that went before him and that followed him were shouting, "Hosanna to the Son of David! Blessed is he who comes in the name of the Lord! Hosanna in the highest!" 10 And when he entered Jerusalem, the whole city was stirred up, saying, "Who is this?" 11 And the crowds said, "This is the prophet Jesus, from Nazareth of Galilee."
Additional Scriptures used in this sermon:
Matthew 16:13-18
13 Now when Jesus came into the district of Caesarea Philippi, he asked his disciples, "Who do people say that the Son of Man is?" 14 And they said, "Some say John the Baptist, others say Elijah, and others Jeremiah or one of the prophets." 15 He said to them, "But who do you say that I am?" 16 Simon Peter replied, "You are the Christ, the Son of the living God." 17 And Jesus answered him, "Blessed are you, Simon Bar-Jonah! For flesh and blood has not revealed this to you, but my Father who is in heaven.  18 And I tell you, you are Peter, and on this rock I will build my church, and the gates of hell shall not prevail against it.
Zechariah 9:9
9 Rejoice greatly, O daughter of Zion! Shout aloud, O daughter of Jerusalem! Behold, your king is coming to you; righteous and having salvation is he, humble and mounted on a donkey, on a colt, the foal of a donkey.
Romans 5:1
1 Therefore, since we have been justified by faith, we have peace with God through our Lord Jesus Christ.
Matthew 11:30
30 For my yoke is easy, and my burden is light."
1 Corinthians 5:18-19
18 All this is from God, who through Christ reconciled us to himself and gave us the ministry of reconciliation; 19 that is, in Christ God was reconciling the world to himself, not counting their trespasses against them, and entrusting to us the message of reconciliation.
John 14:15
15 "If you love me, you will keep my commandments.
Luke 19:37
37 As he was drawing near—already on the way down the Mount of Olives—the whole multitude of his disciples began to rejoice and praise God with a loud voice for all the mighty works that they had seen,
John 12:9-19
9 When the large crowd of the Jews learned that Jesus was there, they came, not only on account of him but also to see Lazarus, whom he had raised from the dead. 10 So the chief priests made plans to put Lazarus to death as well, 11 because on account of him many of the Jews were going away and believing in Jesus.
12 The next day the large crowd that had come to the feast heard that Jesus was coming to Jerusalem. 13 So they took branches of palm trees and went out to meet him, crying out, "Hosanna! Blessed is he who comes in the name of the Lord, even the King of Israel!" 14 And Jesus found a young donkey and sat on it, just as it is written, 15"Fear not, daughter of Zion; behold, your king is coming, sitting on a donkey's colt!" 16 His disciples did not understand these things at first, but when Jesus was glorified, then they remembered that these things had been written about him and had been done to him. 17 The crowd that had been with him when he called Lazarus out of the tomb and raised him from the dead continued to bear witness. 18 The reason why the crowd went to meet him was that they heard he had done this sign. 19 So the Pharisees said to one another, "You see that you are gaining nothing. Look, the world has gone after him."
John 1:29
29 The next day he saw Jesus coming toward him, and said, "Behold, the Lamb of God, who takes away the sin of the world!
John 14:6
6 Jesus said to him, "I am the way, and the truth, and the life. No one comes to the Father except through me.
John 3:3
3 Jesus answered him, "Truly, truly, I say to you, unless one is born again he cannot see the kingdom of God."
Matthew 28:18
18 And Jesus came and said to them, "All authority in heaven and on earth has been given to me.