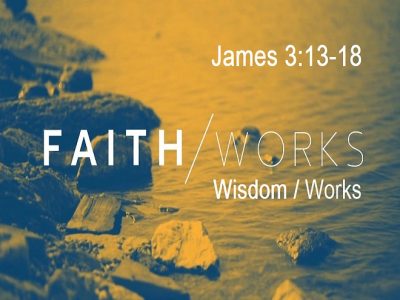 September 8, 2019
James 3:13-18   (New International Version)
13 Who is wise and understanding among you? Let them show it by their good life, by deeds done in the humility that comes from wisdom. 14 But if you harbor bitter envy and selfish ambition in your hearts, do not boast about it or deny the truth. 15 Such "wisdom" does not come down from heaven but is earthly, unspiritual, demonic. 16 For where you have envy and selfish ambition, there you find disorder and every evil practice. 17 But the wisdom that comes from heaven is first of all pure; then peace-loving, considerate, submissive, full of mercy and good fruit, impartial and sincere. 18 Peacemakers who sow in peace reap a harvest of righteousness.
Additional Scriptures used in this sermon (NIV unless otherwise noted):
Matthew 7:21-23
21 "Not everyone who says to me, 'Lord, Lord,' will enter the kingdom of heaven, but only the one who does the will of my Father who is in heaven. 22 Many will say to me on that day, 'Lord, Lord, did we not prophesy in your name and in your name drive out demons and in your name perform many miracles?' 23 Then I will tell them plainly, 'I never knew you. Away from me, you evildoers!'
Matthew 16:6
6 "Be careful," Jesus said to them. "Be on your guard against the yeast of the Pharisees and Sadducees."
Matthew 16:12
12 Then they understood that he was not telling them to guard against the yeast used in bread, but against the teaching of the Pharisees and Sadducees.
Romans 5:8
8 But God demonstrates his own love for us in this: While we were still sinners, Christ died for us.
1 Corinthians 8:1–3
"Now about food sacrificed to idols: We know that "We all possess knowledge." But knowledge puffs up while love builds up. 2 Those who think they know something do not yet know as they ought to know. 3 But whoever loves God is known by God.
Matthew 23:11
11 The greatest among you will be your servant.
Matthew 23:15
15  Woe to you, teachers of the law and Pharisees, you hypocrites! You travel over land and sea to win a single convert, and when you have succeeded, you make them twice as much a child of hell as you are.