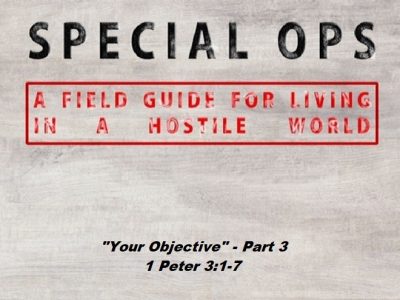 July 29, 2018
1 Peter 3:1-7   (English Standard Version)
1 Likewise, wives, be subject to your own husbands, so that even if some do not obey the word, they may be won without a word by the conduct of their wives, 2 when they see your respectful and pure conduct. 3 Do not let your adorning be external—the braiding of hair and the putting on of gold jewelry, or the clothing you wear— 4 but let your adorning be the hidden person of the heart with the imperishable beauty of a gentle and quiet spirit, which in God's sight is very precious. 5 For this is how the holy women who hoped in God used to adorn themselves, by submitting to their own husbands, 6 as Sarah obeyed Abraham, calling him lord. And you are her children, if you do good and do not fear anything that is frightening.
7 Likewise, husbands, live with your wives in an understanding way, showing honor to the woman as the weaker vessel, since they are heirs with you of the grace of life, so that your prayers may not be hindered.
Additional Scriptures used in this sermon:
1 Peter 2:9
9 But you are a chosen race, a royal priesthood, a holy nation, a people for his own possession, that you may proclaim the excellencies of him who called you out of darkness into his marvelous light'
Matthew 5:16
16 In the same way, let your light shine before others, so that they may see your good works and give glory to your Father who is in heaven.
Ephesians 5:22-23
22 Wives, submit to your own husbands, as to the Lord. 23 For the husband is the head of the wife even as Christ is the head of the church, his body, and is himself its Savior.
Ephesians 5:28-33
28 In the same way husbands should love their wives as their own bodies. He who loves his wife loves himself. 29 For no one ever hated his own flesh, but nourishes and cherishes it, just as Christ does the church, 30 because we are members of his body. 31 "Therefore a man shall leave his father and mother and hold fast to his wife, and the two shall become one flesh." 32 This mystery is profound, and I am saying that it refers to Christ and the church. 33 However, let each one of you love his wife as himself, and let the wife see that she respects her husband.
Ephesians 5:21
21 submitting to one another out of reverence for Christ.
Philippians 2:8-11
8 And being found in human form, he humbled himself by becoming obedient to the point of death, even death on a cross. 9 Therefore God has highly exalted him and bestowed on him the name that is above every name, 10 so that at the name of Jesus every knee should bow, in heaven and on earth and under the earth, 11 and every tongue confess that Jesus Christ is Lord, to the glory of God the Father.
Matthew 26:39
39 And going a little farther he fell on his face and prayed, saying, "My Father, if it be possible, let this cup pass from me; nevertheless, not as I will, but as you will."
John 14:9
9 Jesus said to him, "Have I been with you so long, and you still do not know me, Philip? Whoever has seen me has seen the Father. How can you say, 'Show us the Father'?
John 10:30   (NASB)
30 I and the Father are one."
Genesis 1:26-27
26 Then God said, "Let us make man in our image, after our likeness. And let them have dominion over the fish of the sea and over the birds of the heavens and over the livestock and over all the earth and over every creeping thing that creeps on the earth." 27 So God created man in his own image, in the image of God he created him; male and female he created them.
Galatians 3:28
28 There is neither Jew nor Greek, there is neither slave nor free, there is no male and female, for you are all one in Christ Jesus.
2 Corinthians 6:14
14 Do not be unequally yoked with unbelievers. For what partnership has righteousness with lawlessness? Or what fellowship has light with darkness?